28 May 2009 Edition
Belfast Sinn Féin Chairperson Bobby Storey's car attacked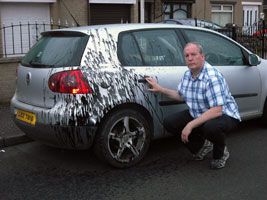 In the early hours of Saturday 23 May, a car belonging to Belfast Sinn Féin chairperson Bobby Storey was attacked and vandalised with black paint in the Andersonstown area.
Speaking after the incident, Mr Storey said:
"This is the latest in a series of attacks on Sinn Féin members, Sinn Féin offices and Republican memorials.
"Our Connolly House, Falls Road and Turf Lodge advice centres have been paint bombed in recent weeks and our Falls Road office was targeted in a hoax bomb attack.
"The home of my party colleague, Mitchel McLoughlin, and his family, was targeted with petrol bombs in an attempted murder, and leading members of Sinn Féin have had their lives threatened by these groups.
"Republican memorials have also been attacked in the last few weeks.
"A Roll of Honour plaque was smashed to pieces, a sign with the face of Countess Markievicz was destroyed, paint was smeared all over the ground and the flagpole in the Turf Lodge Republican memorial garden, and a mural in memory of the Gibraltar and Milltown Martyrs at the top of Monagh Road had the initials RIRA sprayed on it.
"Sinn Féin has come under attack on countless occasions in the past from the British Army, the RUC and unionist death squads. We were not deterred then and we will not be deterred now from our Republican work.
"Those who carried out this attack and the other attacks are totally removed from republicanism and from our community.
"In the past couple of months, they have stopped children all over West Belfast from going to school, they have caused the closing of Health Centres and they have caused the evacuation of elderly people from their homes.
"They offer our community nothing for the future.
"They have no popular support, no strategies and no programmes which can in any way advance the republican goal of a United Ireland.
"Their actions are attacks on the people of West Belfast. The community, individual business people, local residents and victims have all testified to this.
"The only objectives these people share are a desire to destroy the Peace Process and undermine the Sinn Féin strategy to achieve a United Ireland.
"Republicans will not allow this to happen."