28 May 2009 Edition
Unionist mob murder man, leave one critical and beat pregnant woman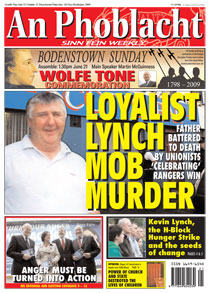 Loyalist murder – No excuses, no denial

BY LAURA FRIEL

ONE MAN was beaten to death, another was fighting for his life in hospital and a pregnant woman was mercilessly battered with baseball bats by a unionist mob in Coleraine celebrating Glasgow Rangers winning the Scottish Premiership on Sunday. The attackers ignored the woman's pleas that she was pregnant and continued to beat her.
The onslaught came on Sunday evening when several cars, carrying 40 men and youths, many chanting UDA slogans, swept into the nationalist Heights neighbourhood.
Shortly after 9pm, the 40 loyalists, armed with baseball bats and cudgels, left a car park in New Market Lane and drove into the Pates Lane area of The Heights. Once inside the Catholic area, the mob attacked anyone unfortunate enough to cross their path.
During the attack the mob shouted "We are the UDA!" and chanted "UDA! UDA!" Families were subjected to sectarian and racist abuse.
Hearing the commotion, Kevin and Evelyn McDaid, a married couple with four children, left their Somerset Drive home, fearful that either of their two sons might become caught up in the loyalist attack. A well-known and well-respected member of the local community, 49-year-old Kevin McDaid had been a voluntary cross-community youth worker and was most probably known by those who attacked him.
According to eyewitnesses, Kevin was surrounded by up to 15 loyalists and beaten to the ground. Another man, 46-year-old Damian Fleming, was also beaten by the mob and remains in a critical condition as we go to press.
Evelyn McDaid and another woman who came to her assistance were also beaten. The woman was targeted by the mob despite shouting that she was pregnant.
A witness told of a girl pleading with the mob to stop beating Kevin McDaid. "He's an old man," she had said. "He's only a Taig," one of the assailants had replied.
The murderous intent of the mob can be ascertained by the nature of injuries they inflicted, almost entirely head injuries. As in the cases of Ballymena sectarian victim Michael McIlveen and Robert Hamill of Portadown, murder by mob invariably involves the systematic targeting of the victim's head.
Kevin McDaid was helped away by his son but collapsed and died moments later. It was the second time he had been attacked by loyalists in two years.
Damian Fleming, who has not regained consciousness, remains critically ill in intensive care. Fears have been raised about the serious nature of Damian's injuries and the PSNI have already raised the prospect of a possible second murder inquiry.
The likelihood of a loyalist incursion into the Catholic area following the Rangers match had been raised with the PSNI prior to Sunday night's attack. In light of a possible sectarian attack, the PSNI had organised a number of stand-by units.
In the immediate run-up to the loyalist incursion, the PSNI had been in contact by telephone with a number of people in both communities. During those conversations it was clear that the PNSI were aware of a heightened loyalist threat.
There have been a number of recent loyalist mob and paramilitary incursions into this Catholic area. During one incursion, armed and masked loyalists and their supporters paraded through the area in a paramilitary show of strength. At that time the PSNI said they did not have the resources readily available to intervene.
On Sunday night the PSNI did have available resources. But, despite having units on standby, once again they failed to intervene. Instead, PSNI inaction allowed the loyalist mob to drive in, carry out their murderous attack, and drive out of the area without being challenged.
Local Sinn Féin Councillor Billy Leonard said that sectarian hatred fuelled the murder of Kevin McDaid
"There is no room for denial or excuses," Billy Leonard said.
In the wake of the killing, Leonard has called on unionist politicians and community workers to acknowledge the prevalence of anti-Catholic, anti-Irish hatred within their communities and engage fully in the task to eradicate sectarianism and racism wherever it occurs.

"The notion that the flying of a Tricolour or a flag supporting a rival football team can be a quasi 'explanation' for murder has to be challenged," the Sinn Féin councillor said.
"Political unionism must face down paramilitary unionism and stop pandering to a sectarian ideology which sees any manifestation of an Irish identity as an excuse for violence."
There are serious questions to be asked of PSNI chiefs about the strategy, tactics and responses on Sunday, he added.
"Serious questions must be asked. The PSNI knew there was likely to be an attack; they knew where that attack would take place. They had the personnel, PSNI units were ready and waiting but they failed to intervene."
Serious questions must also be asked about the PSNI decision to act as quasi-negotiators for the UDA just prior to the mob's incursion.
During telephone contact, local people were warned of loyalists demanding the removal of two flags, a Tricolour and a Celtic flag, flying in the Catholic enclave.
It is an objection which is best judged by the fact that hundreds of unionist flags, including paramilitary flags routinely fly in other areas of Coleraine.
Despite the shameful nonsense of the UDA's excuse for murder, it was a factor later reiterated by a senior DUP politician.
Commenting on the loyalist incursion and sectarian killing, joint First Minister Martin McGuinness said politicians must demonstrate that sectarianism and bigotry had no place in society.
"Politicians must lead by example. Despite the enormous progress we have made over the recent past, sectarian hatred continues to blight many areas and loyalist paramilitaries continue to orchestrate sectarian violence.
"We need to see clear and unequivocal condemnation of this sectarian murder from the political leaders of unionism across the spectrum."
It has now transpired that Coleraine loyalists have threatened "some form of action" against one of murdered Kevin McDaid's sons.
 Police notified the young man late on Tuesday night as the threat was to take effect from midnight that night.
Coleraine Sinn Féin councillor Billy Leonard has described the threat as the "ultimate insult" to the McDaid family and added:
"These sectarian loyalists have murdered Kevin, badly beaten his wife Evelyn and now deliver the ultimate insult by threatening one of the sons.
 "All loyalist and unionist politicians and community leaders, including the UPRG, must now stand up and be counted by publicly and privately working to rid this community of such low level activity.
"The world is sickened by Kevin's murder yet cancerous Coleraine still spews out its loyalist sectarian bile and hatred."
This family have suffered enough: they must be able to grieve without further pressure. Those loyalists responsible must now publicly withdraw the threat and close down forever and the Police need to confirm which loyalist group the threat emanates from."
Meanwhile, as An Phoblacht goes to press Billy Leonard and Sinn Féin  MLA John O'Dowd were meeting with the North's Parades Commission in relation to a propsed loyalist march in Coleraine this weekend. 
FORENSIC: Investigators search for evidence at the crime scene