28 May 2009 Edition
Mary Lou defies Fianna Fáil's 'dirty campaign'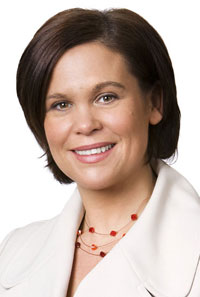 MARY LOU McDONALD has taken on the three male MEPs in Dublin – Fianna Fáil's Eoin Ryan, Labour's Proinsias de Rossa and Fine Gael's Gay Mitchell – all of whom sniped at her attendance record in Europe. Apart from the time she spent in Dublin in her leading role in securing the Irish public's support in rejecting the flawed Lisbon Treaty, Mary Lou pointed out that she was on maternity leave.
"In fact, my attendance is comparable with that of Eoin Ryan.
"I have no apology to make for myself as a mother, as a woman in politics or as a working parent."
And then there was the Lisbon campaign.
"At the same time the political establishment was asking the Irish people to be a rubber stamp for Europe, it was the likes of me and Sinn Féin and others who ensured there was a full debate.
"That Lisbon Treaty debate was the big issue in our five-year tenure as MEPs and the question has to be, 'Where were the others?'"
Criticising the main Government party's role in the election campaign, Sinn Féin President Gerry Adams said: "Fianna Fáil are fighting a dirty campaign here in this city."
He described Fianna Fáil criticisms of Mary Lou McDonald's attendance record at the European Parliament as "just despicable".