16 April 2009 Edition
Attack condemned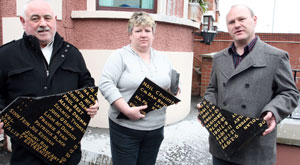 SINN FÉIN West Belfast MLA Paul Maskey has condemned those responsible for an overnight attack on the Connolly House advice centre on the Andersonstown Road, the third in the space of two weeks.
A number of paint bombs were hurled at the property and a plaque with the names of Volunteers on the local Roll of Honour was destroyed.
Speaking on Wednesday Maskey said:
"This attack is the third in a very short period but it will not detract Sinn Féin from our work. It comes after an upsurge in anti-republican graffiti throughout parts of west Belfast.
"The attack on the Connolly House advice centre and, in particular, the desecration of the Roll of Honour isn't just an attack on Sinn Féin but an attack on our community. The people of west Belfast overwhelmingly support our political project, they have made that clear at elections but it was also made very clear when thousands upon thousands lined the Falls Road at this year's Easter Parade.
 "I have no doubt that this latest attack will only serve as another clear reminder, if one were needed, that those responsible are not republican and offer our community nothing for the future. Sinn Féin has come under attack in the past and we will not be deterred from our republican work.
"We will also not allow anyone to deface or disrespect the proud memory of our patriot dead."
Sean Lennon, Chairperson of the Andersonstown Commemoration Committee and brother of IRA Volunteer Danny Lennon, whose name is on the Roll of Honour plaque that was destroyed in the attack, said:
"When we think of the sacrifices made by our patriot dead and then compare that with the actions of these people, it shows how far removed they are from republicanism and from our community.
"In the past couple of weeks, they have stopped children from going to school, they have caused the closing of health centres, they have caused the evacuation of elderly people from their homes and, in doing so, they have attacked the entire west Belfast community.
"The attack on this plaque is an attack on the families of the republicans whose names are on the plaque.
"I am calling on these people to explain how they are advancing the cause of a United Ireland by these acts of wanton destruction.
"Connolly House has been attacked many times in the past by the RUC, the British Army and their unionist murder gangs.
"The people who did this should know that Republicans won't be deterred by these pointless and disgusting attacks."