16 April 2009 Edition
Office attack by 'cowards controlled by British intelligence'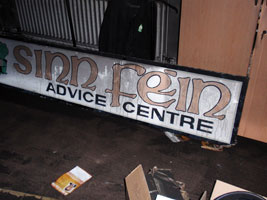 DERRY Sinn Féin Chairperson, Paul Fleming has described those responsible for the arson attack on the Party's Constituency Office on 11 April as cowards doing the work of those in the British establishment who want to see the Sinn Féin strategy for Irish unity fail. So-called 'dissident republicans' are suspected to have been behind the attack.
Paul Fleming said:
"If those who carried out this attack think they were striking a blow for Irish freedom then they are deluding themselves. I can best describe them as no better than counter-insurgency groups that are heavily infiltrated and controlled by British Intelligence Services.
"The only thing that they succeeded in destroying last night was iconic pictures of Bobby Sands' election victory announcement, portraits of the Hunger strikers and other republican memorabilia. It is no coincidence that this attack was carried out on Easter Saturday night with the hope that it would disrupt Sunday's commemoration of the sacrifice paid by our patriot dead.
"It is becoming clearer after every action carried out by these enemies of the Peace Process that their main target is not British rule in Ireland but Sinn Féin's success in dismantling the influence of the British Government in Irish affairs. Sinn Féin has a clear strategy to achieve Irish unity and it has been endorsed by increasing numbers of genuine republicans and nationalists in successive elections throughout Ireland. These impostors will not deter us from our agenda.   
"This attack will not deter Sinn Féin from carrying out its constituency service and the centre will be open for business as usual after the Easter holiday."
Meanwhile, commenting on implied threats against unnamed republican leadership figures by so called republican dissidents in Derry Sinn Féin spokesperson Raymond McCartney said:
"While accepting the right of everyone to dissent from Sinn Féin's point of view we will not be intimidated or deterred from our republican strategy by micro groups who continue to besmirch the proud tradition of republicanism and the ideals of our patriot dead.
"Nor will we allow them to hijack our proud republican history for narrow selfish interests or personal gain.
"Sinn Féin, for over thirty years have withstood assassination campaigns by British forces and their pseudo murder gangs and survived. We will not allow groups with miniscule support to hijack the name of republicanism to hide behind while they make threats against true leaders of our community."