16 April 2009 Edition
Presentation to families of Belfast's Patriot Dead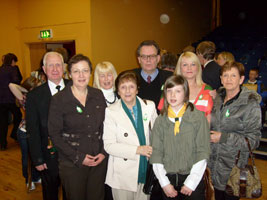 A  presentation ceremony in An Culturlann Mac Adaim O'Fiaich, the Sinn Féin Mayor of Belfast, Tom Hartley, presented Easter Lilies to the families of Belfast's republican dead.
In a poignant speech to the hundreds of family members, Hartley praised, "the courage and dignity of the families of our martyred dead" for the way in which they carried their loss over the years.
Hartley carried out the presentation of a Lily to the family of Fian Gerard McAuley, the first person named on the Roll of Honour and the last person named on the Roll of Honour, Volunteer Harry Burns.