16 April 2009 Edition
'Toxic Government have no answers, no plan, no shame' - McDonald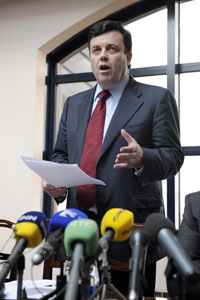 Coalition 'NAMAnomics' don't add up

BY ROBBIE SMYTH

The emergency budget is ended, but anger at massive tax hikes and spending cuts grows, particularly as yet again there was no plan for an economic fight back by Government. Writing in the Irish Star, Sinn Féin vice-president and Dublin MEP Mary Lou McDonald said that the "toxic government" had "brought us to economic disaster" and "cannot lead us to recovery".
It was wrong McDonald said to think we can "simply cut or tax our way out of recession" and that "The fall out from this week's emergency budget will be serious and long term. Taxpayers will take on the debts of bad banks and developers. Families will see their household incomes slashed. Workers will continue to lose their jobs".
Dealing with the lack of a strategy for economic recovery, McDonald said, "The government has no answers, no plan and no shame".
Cowen's strategy of taking substantial sums of money out of the Irish economy, €1.8 billion in tax hikes and €1.5 billion in spending cuts by the end of 2009, is at odds with stimulus strategies in the US and Germany and tax cuts in Britain.
For example Finance Minister Brian Lenihan unveiled a €100 million fund for exporting firms in Ireland, ignoring the 90% of cash strapped Irish firms not exporting, while in Germany a €100 billion guarantee for businesses hit by the credit crunch has been put in place.
Most of the post budget focus has been on the plan unveiled by Lenihan for a National Asset Management Agency (NAMA) in a strategy that could more than double the state debt which currently stands at €54 billion.


Questions about NAMA
1     What will NAMA do?
Property loans given to speculators and builders who are at best cash strapped or more likely bankrupt will be transferred to a new state agency. The state will give up to €90 billion to the banks and take the debts into public ownership, seeking payment from the borrowers or recouping the money through asset sales, which is highly unlikely now as selling development land, unfinished apartments, shopping malls, hotels etc is not feasible at all in the current downturn.
Recouping the original value of loans made at the peak of the property bubble is unlikely and the narrow scope of who caused this crisis was claimed in the media last weekend as being the bad debts of just 50 property developers.

2    Is there any good news?
NAMA, it is claimed by some media commentators will 'nationalise the property development sector'. But once these assets come under the state control, NAMA will seek either through sales or development partnerships to sell them back into the private sector.
It is believed that international private equity firms, investors and developers not battered by the global economic downturn would be interested in some of these properties and schemes, but there are no firm details.
However, after decades of disastrous planning and development especially in the greater Dublin region, the state and by default the four local authorities in Dublin have the potential to be back in the driving seat of planning and building.
This could be a great positive, where we can build houses for families with real local facilities, small shopping outlets in the middle of towns with farmers markets and public transport, schools with enough room for playing fields.

3    How much will it really cost?
We don't know. Lenihan in his budget speech said €90 billion but talked of "a substantial discount" the day after. Green Party spokesperson Dan Boyle put the figure at €45 to €50 billion. Stockbrokers Davys and Goodbody, who are owned by AIB, have suggested a 15% discount on the €90 billion as likely.
Junior minister Martin Mansergh said it was between €30 and €60 billion, while some media reported that the National Treasury Management Agency NTMA are seeking a 30% discount.

4    What will it add to the 26-County state debt?
The NTMA estimate that servicing rising state debt over the next five years will take 19% of all tax revenue. This figure rises to over 25% when we take on the bad debts of bank property loans.
There is also the issue that some banks who gave substantial loans on agricultural land or suspect sites such as Sean Dunne's Ballsbridge lands have either been refused planning permission or not even begun the process of obtaining it. So the land involved is probably worth substantially less than its 'boom' value.

5     How will it be run?
We really don't know yet. Watch this space!

6    Why not just nationalise the banks?
It seems that no matter how much bad debts are written off by the government through NAMA the banks will require more money. So why not bite the bullet now?

7    What is the real state of play in the banking sector right now?
Irish Nationwide is being reported as about to disclose a €300 million loss for 2008. Last week EBS Building Society raised €1 billion in new funding, bringing the total of state backed bonds at the six largest banks to €8.1 billion.
A possible merger of EBS, Irish Life and Permanent, and Irish Nationwide has been put on hold. Allegedly €30 billion of the bad debt is held by AIB who are first in line for nationalisation.

8    What is the timeline for NAMA coming into operation?
The cabinet are to sign off on the legislation after the Dáil resumes, (yes they are on holiday again!) and have it passed into law before they go on holiday 'again' in June.
The Green Party's finance spokesperson Dan Boyle expects NAMA to be "up and running by summer".
However unnamed developers and governments sources have admitted that it could be 12 to 18 months before any assets are transferred from an Irish bank to NAMA which brings us back to the question of why not nationalise AIB and BoI right now rather than allow more months of uncertainty dampen the economy further.
NAMA's projected lifespan will be between 10 and 15 years. Given that most of the loans it is taking on are due to run for three years, expect a lot of renegotiation. This requires a banking licence which brings us back yet again to the question of why not nationalise the banks now! 
 
COWEN: Trying to work it all out