16 April 2009 Edition
McGuinness launches Ballagh 1916 signatories series at Stormont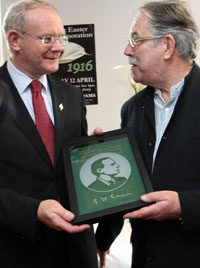 SINN FÉIN Deputy First Minister, Martin McGuinness MP MLA and prominent Irish artist Robert Ballagh, launched the first of seven pieces of art depicting the signatories of the 1916 proclamation at the Sinn Féin party room in Stormont, on Thursday 9 April.
Also in attendance were be Irish born artist Brian O'Doherty (previously known as Paddy Ireland) and Barbara Novak, American art historian.
Sinn Féin has commissioned Robert Ballagh to create the new series of original limited edition pieces of art which will be framed, numbered, dated and signed by the artist and will incorporate both a hand etched glass portrait of a 1916 signatory and a special giclée printed museum quality reproduction of the proclamation.
The concept of this series is to celebrate the ideal of a 32 county republic as envisaged by the signatories of the 1916 Proclamation.
Each year, at Easter, between now and 2016 a new piece will be issued. The series commenced this Easter with Pádraig Pearse.