16 April 2009 Edition
Joe Cahill Memorial tournament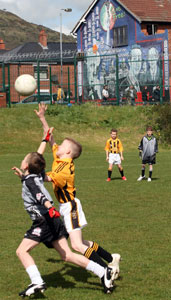 THE fifth Joe Cahill Memorial tournament took place last Saturday 11 April in Belfast.
Held in the magnificent setting of Cardinal O'Donnell Park, home of the host club, off Belfast's Whiterock Road the tournament saw 8 U12 football teams from across the city take part.
The tournament was instigated five years ago by the Gort na Mona Historical Society as a fitting memorial to one of Ireland's finest men, veteran IRA Volunteer Joe Cahill.
Since then it has been played out at the home of Cardinal O'Donnell's GAC.
This year however, on the 125th Anniversary of the founding of the GAA, the tournament's founders organised the tournament as an event to fit in with the Association's celebrations.
Leo Robinson chairperson of the host club paid tribute to the clubs who took part in the tournament and praised the young Gaels for their endeavour and commitment to their clubs.
St John's ran out as the winners of the tournament beating Gort na Mona in the final.
Annie Cahill and Bairbre de Brún at tournament