19 March 2009 Edition
World scientists' summit undermines Wilson's climate change claims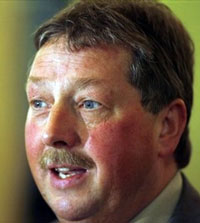 LAST WEEK'S climate change conference in Copenhagen where nearly 2,500 of the world's leading scientists declared that the most serious warnings on climate change are coming true and called for "immediate action" further discredits the position of DUP Environment Minister Sammy Wilson, Sinn Féin MLAs have said.
South Down Sinn Féin Assembly member Willie Clarke said:
"Their view is that there is an increasing risk of abrupt or irreversible climate shifts and that even modest temperature rises will affect millions of people, particularly in the developing world.
"They also make clear that most of the tools needed to cut carbon dioxide emissions already exist and that green growth is the answer to both our climate and economic problems."
New data presented on sea level rise indicated that the best estimates of the Inter-governmental Panel on Climate Change (IPCC) made two years ago "are already woefully out of date", Willie Clarke said.
"The report under-estimated the scale of the risks and the speed at which the planet is warming, yet the North's Environment Minister, Sammy Wilson, continues to support polices that suggest the opposite view and that nothing needs to be done to combat climate change!
"Many eminent scientists are warning of the consequences of not taking effective measures against global warming. If the world was to warm by 5C over the next century there will be extremely serious implications for millions of people. Rising seas would make many areas uninhabitable leading to mass migrations and inevitably sparking violent conflict.
"It is very important that we understand the magnitude of this problem and an effective global response is desperately needed to avoid these dramatic scenarios. The type of inaction that is the policy of Sammy Wilson and the DUP is inexcusable and unacceptable."
'EARTH HOUR 2009'
 Meanwhile, Sinn Féin's Environment spokesperson and North Antrim MLA Daithí McKay added his support to a motion before the Assembly supporting the World Wildlife Fund's 'Earth Hour 2009'.
The motion proposes switching off the lights in Stormont and all other Government department buildings during 'Earth Hour' on 28 March. McKay said all parties should support the motion and send a clear message that the Assembly does not back Environment Minister Sammy Wilson's views on climate change.
"The WWF's 'Earth Hour' will go some way in publicising and highlighting the small steps we all can take to reduce our carbon footprint and work towards practically saving energy and indeed during the current economic climate it will also go someway in helping to save money.
"I am sure that the Environment Minister will try and resist attempts being made to switch his office lights off in an attempt to highlight climate change but I would urge the rest of the Assembly to take this opportunity to 'put his lights out'."