19 March 2009 Edition
Day of action heralds 'Time for Action' on jobs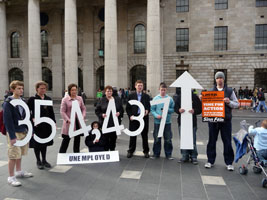 Sinn Féin job-creation campaign gets to work
SINN FÉIN held a 'Job Creation Day of Action' in a number of towns and cities last Saturday, 14 March, demanding action on the escalating unemployment crisis in the 26 Counties.
The day of action marked the beginning of a series of actions over the coming weeks around Sinn Féin's proposals to get Ireland back to work, develop the all-island economy, and look at public sector spending and public finance savings.
Speaking at the GPO on O'Connell Street, Sinn Féin Vice-President Mary Lou McDonald MEP said:
"Unemployment is spiralling out of control. The Government needs a three-year plan to hold on to or create the 1,000 jobs a day that are being lost. This must include stopping job losses, creating new jobs, keeping people in education and stimulating consumer spending."
The Dublin MEP added that, in advance of the Government' emergency budget, Sinn Féin will publish its proposals on job retention and creation in a document entitled  Unemployment is Out of Control – Time for Action. This will set out the key challenges and contains more than 60 proposals designed to keep as many workers as possible in the workforce, retrain those who have lost their jobs and specific measures to start creating new jobs.
Mary Lou McDonald said:
"The Government needs to end its laissez faire attitude to Ireland's soaring unemployment. The Tánaiste's handling of SR Technics' impending closure is just one example of the Government's hands-off approach to job losses."
The Dublin MEP explained that, following meetings with trade union officials with the company, Sinn Féin called on Mary Coughlan to work with trade union officials to ensure every avenue is fully explored with the objective of keeping the Dublin facility open for business with the maximum number of jobs retained. Sinn Féin is also seeking a meeting with the Tánaiste.
"The economy can be turned around," Mary Lou McDonald said.
"Despite the difficulties, there are still huge opportunities if the right plan is put in place and real leadership is shown.  This is where the Government is failing. And, realistically, the people that got us into this mess are unlikely to be the people to get us out of the problem.  Different ideas require different people."
Sinn Féin's timetable for action includes:-
•    Thursday 19 March – Mary Lou McDonald and leading trade unionists hold a public meeting in Dublin entitled 'Time for Action' on Ireland's soaring unemployment.
•    Monday 23 March – Sinn Féin's Economic spokesperson Arthur Morgan TD, Mary Lou McDonald and Councillor Pádraig Mac Lochlainn launch the party's job-creation proposal's to the media in Dublin.
•    Thursday 26 March – Arthur Morgan and Mary Lou McDonald launch the party's public finance and public sector proposals.
•    Week commencing Monday 30 March  – Sinn Féin will be making a detailed submission to the Government in advance of its Supplementary Budget due on 7 April.