19 March 2009 Edition
Sinn Féin meets UDA-linked UPRG in wake of killings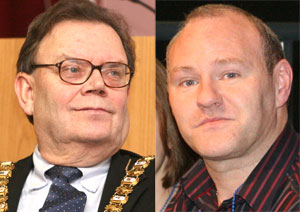 BY EMMA CLANCY
A SINN FÉIN delegation, including Belfast Mayor Tom Hartley and Assembly member Paul Maskey, met with representatives of the Ulster Political Reseach Group, linked to the UDA, for the first time last week.
Speaking after the meeting, held on 11 March, Tom Hartley described the historic discussion as "constructive" in the wake of the killings of two British soldiers and a PSNI officer by so-called dissident republicans.
"The principles which have underpinned the Peace Process have been inclusivity and dialogue," Tom Hartley said.
"Today we met with representatives of the Ulster Political Research Group. In recent years there has been useful work done between loyalists and republicans in the city which has contributed to a series of peaceful summers.
"The events of recent days, which have seen three people killed and a number of others injured, have clearly raised tensions across the board. But this is a time for clear heads and decisive leadership.
"There can be no return to the failures of the past. Loyalists have an important part to play in ensuring this happens and that formed part of our discussions today."
The Belfast mayor added:
"Sinn Féin will continue to build the Peace Process. Its robustness has been demonstrated in the days since Saturday night. However, it is important that all of us in political leadership continue to redouble our efforts to maintain calm on our streets and see an end to these sorts of futile armed actions."
SOCIAL ISSUES
Speaking to An Phoblacht  this week, west Belfast Assembly member Paul Maskey said that Sinn Féin also discussed broader economic and social issues with the UPRG delegation.
"The groundwork for such a meeting to take place has been laid by community activists, republican and loyalist, over the past few years through cross-community dialogue and interface work to foster respect and keep our streets calm over the summer," he said.
"We hope to continue to build on these lines of communication and dialogue, which are so vital in periods when tensions rise.
"Dialogue between representatives of Belfast's working-class communities can play an important role in tackling many of the common problems we face," Maskey added.
"These include fuel poverty and economic hardship, unemployment and social issues such as suicide, community safety, health and education.
"Our common experience of social deprivation and exclusion can be the starting point for discussions about our common strategies for the way forward."
Frankie Gallagher from the UPRG viewed the meeting as positive, saying:
"We made a conscious decision that we would meet Sinn Féin to demonstrate to these people [republican micro groups] they will not create any more division."
Gallagher also said that while the UPRG and Sinn Féin have political and ideological differences, "there are many social and economic issues that we can work together on".