19 March 2009 Edition
Gaza MP briefs Sinn Féin MP on ongoing crisis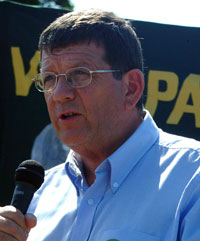 BY JAYNE FISHER
THE blockade of Gaza must be ended and its borders opened by Israel, Sinn Féin MP Pat Doherty said in London this week after a meeting with Gaza Independent MP Jamal Al Khodari at Westminster. Mr Al Khodari was in London to speak to MPs and groups about the situation in Palestine.
The Sinn Féin West Tyrone MP said it is critical to lift the blockade of Gaza by Israel and for the borders to be opened to allow humanitarian aid, medicines, food and other materials in to begin to address the devastation wrought by the recent Israeli bombardment.
Doherty heard at first-hand from the Gaza MP the huge devastation now facing the people of Gaza following the recent Israeli bombardment.
Following the meeting, Pat Doherty pointed out that some 1,434 Palestinians had lost their lives in the recent offensive, "the vast majority were civilians". He added:
"Now the people of Gaza have to rebuild their lives, their homes and their livelihoods but they face an ongoing siege where essential food, fuel and medical supplies are being denied them through this blockade."
He said the "full force of international pressure must be brought to bear upon Israel to bring this blockade to an end and to comply with international law".
The Sinn Féin MP also underlined that, in the longer term, a solution must include the right of the Palestinian people to a viable state, and for any peace strategy to be based on inclusive dialogue and political negotiation as the way forward. He also called for elected governments and elected representatives to be recognised and their mandates respected.
ST PATRICK'S DAY meetings
Pat Doherty was in London for a series of meetings and engagements around St Patrick's Day.
He attended the London St Patrick's Day Parade and Festival and a series of events including at the Irish Embassy in London and the pro-Agreement group Champ. He also met British Ministry of Defence Under Secretary of State Kevan Jones in relation to the future of the vacated British Army Lisanelly and St Lucia Barracks in Omagh to press the British Government to fulfil their commitment of gifting the sites to the Executive.