19 March 2009 Edition
Social Insurance Fund will run out of money this year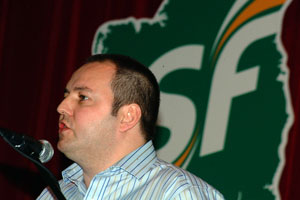 FROM THE BLOG: Sinn Féin Cllr Pádraig Mac Lochlainn, EU candidate for Ireland North-West @ www.padraigforeurope.ie
BY PÁDRAIG Mac LOCHLAINN
 

MOST employers and employees (over 16 years of age) in the 26 Counties pay social insurance contributions into the Social Insurance Fund. In general, the payment of social insurance is compulsory.
The Social Insurance Fund is made up of a current account and an investment account managed by the Minister for Social and Family Affairs and the Minister for Finance respectively. The current account consists of monies collected from people in employment. This money is then used to fund social insurance payments such as unemployment benefit, state pensions, maternity benefit and redundancy payments.

THE Secretary General of the Department of Social and Family Affairs, Bernadette Lacey, has told a Dáil committee that the Social Insurance Fund will run out by the end of the year.
The fund has been particularly affected by the dramatic rise in unemployment. Social welfare cuts may now be on the cards as a consequence of the shortfall in the social insurance fund. Cuts are not the answer – measures need to be taken to ensure that the Social Insurance Fund has the revenue to meet demands on it.
An employment strategy needs to be implemented to stop jobs losses and to get those now unemployed back to work.
On hearing what the Secretary General of the Department of Social Welfare had told the Oireachtas Public Accounts Committee, I was reminded of the promises which Fianna Fáil made in advance of the 2007 general election – to cut employee PRSI from 4 per cent to 2 per cent and to cut PRSI for the self-employed from 3 per cent to 2 per cent.
At the time, Sinn Féin warned that these proposals were being made without any consideration as to whether the Social Insurance Fund was sufficient to meet current and future demands. In contrast, Sinn Féin were calling for the PRSI ceiling to be removed to boost the Social Insurance Fund – the PRSI ceiling is unfair because the better paid, those over the ceiling (€50,700), pay a smaller proportion of gross income in PRSI than those earning under the ceiling.
Despite the difficulties facing the Social Insurance Fund, the Government again at last October's budget failed to remove this ceiling. It must do this on 7 April.
The fact that the mainstream media failed to question the proposals from Fianna Fáil to cut PRSI contributions to unsustainable levels was astonishing.

In the aftermath of the announcement by former Taoiseach Bertie Ahern that his party would cut PRSI contributions if returned to office, An Phoblacht carried an article looking at the possible consequences of the Fianna Fáil proposal. Here's what An Phoblacht said on 29 March 2007:
"The adequacy of the Social Insurance Fund should be one of the most important considerations for any government. That it could be sacrificed for electoral gain is despicable. Because we genuinely want to implement necessary improvements in social protections, ensuring that adequate revenue is available to the Social Insurance Fund is a priority for Sinn Féin.
"Sinn Féin has committed to improving social protections, raising social welfare rates, improving maternity benefit (including length of leave), introducing payment in respect of parental leave, increasing redundancy entitlements and introducing a reformed state pension. This cannot be done if the Social Insurance Fund does not have sufficient resources to achieve these objectives.
"There are already serious concerns about the adequacy of the Social Insurance Fund," An Phoblacht said, pointing out that a Government review of projections "demonstrated a high likelihood that the current contribution rates will need to increase significantly" if they are to be sufficient to provide present levels of benefits.
"Yet the Taoiseach is now proposing to significantly cut social insurance contributions with no consideration as to the adequacy of the fund... If the PRSI cuts go ahead, be assured cuts in social protections will follow. But don't expect Fianna Fáil to tell us about that until after the election!"