19 March 2009 Edition
Shell to Sea campaigner jailed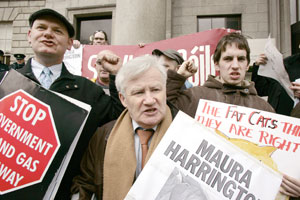 A BELLMULLET, County Mayo, court last week sentenced Shell to Sea spokesperson Maura Harrington to 28 days in prison for allegedly assaulting a garda at Pollathomais Pier on 11 June 2007.
It relates to an incident when gardaí and Shell used a digger to force their way onto private property against the wishes of the landowner to facilitate the siting of a portacabin.
Shell to Sea spokesperson Terence Conway said that, on 11 June 2007, "in the region of 20 local people received injuries in relation to gardaí forcing their way illegally onto private property", yet no garda has ever been "brought to justice" as a result of this incident.  "Instead," he said, "now that Shell is about to begin their works in Glengad, it seems that the state operation against the community has kicked into gear."
Speaking at Belmullet Court, local fisherman Pat O' Donnell said:
"It's a sad indictment of the country when a brave lady like Maura is put in jail for defending her community and standing up to corruption and greed while all the corporate executives and bankers seem to only get golden handshakes for their corruption and greed.  Maura Harrington is a political prisoner sentenced at the behest of Shell."
VIDEO DENIAL
During the hearing of the case, Maura Harrington had refused to take the stand in her own defence after Judge Mary Devins refused to allow video footage of the incident to be admitted.
In sentencing Maura Harrington, Judge Devins told of her horror to see the attack of one public servant on another.
Terence Conway stated:
"I personally have video evidence of numerous of these public servants assaulting members of our community but to date my video footage has never been allowed in court.
"In the last three weeks, the Garda have handed out in the region of 25 summonses to people for their opposition to Shell, so it seems that political policing has commenced in no uncertain manner.  It cannot be mere coincidence that all of these summonses are appearing just as Shell is due to recommence work back on the Glengad Special Area of Conservation."
GARDA BENEVOLENT FUND
Maura Harrington also refused to sign a bond that would prevent her from interfering with Shell's operations in Mayo for a year and also refused to pay €1,000 to the Garda Benevolent Fund.
Terence Conway concluded:
"Our opposition to Shell's plans will continue as we are fighting for the health and safety of our community and the future of the area."