19 March 2009 Edition
Another View by Eoin Ó Broin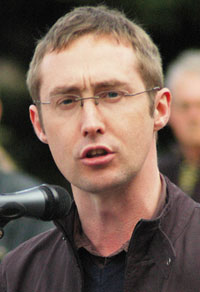 National integrity?
HOW corrupt is Ireland? According to a recently-released Transparency International report, Ireland "is regarded by domestic and international observers as suffering high levels of legal corruption".
The report goes on to say that while "no laws may be broken, personal relationships, patronage, political favours, and political donations are believed to influence political decisions and policy to a considerable degree".
Transparency International (TI) defines itself as "the global civil society organisation leading the fight against corruption, bringing people together in a powerful worldwide coalition to end the devastating impact of corruption on men, women and children around the world".
Their mission is to create change towards a world free of corruption.
In Ireland, TI is headed by John Devitt, with corruption expert and Irish Times columnist Elaine Byrne leading the research for the recent report.
While the report acknowledges that "Ireland has made substantial progress in strengthening legal and institutional safeguards against corruption over the past 15 years", it goes on to list a number of areas where more work needs to be done.
In particular, TI are concerned about:
•    The lack of transparency in political funding and lobbying;
•    An over-reliance on self-regulation and weak enforcement of standards in public life; and
•    The absence of clear statistics produced or published by the state on issues relating to corruption.
Importantly, TI argues that the government has "excessive discretion in a number of democratic functions, including control over the legislative agenda" which has the potential to limit "the ongoing development and reform of Ireland's legal and institutional environment".
To address these issues, TI proposes a detailed series of recommendations, including:
•    Greater protection for whistle-blowers;
•    Ratification of international conventions against corruption;
•    The establishment of a register of lobbyists;
•    Greater support for law enforcement; and
•    Reform of the Freedom of Information system.
The report also proposes reforms to central and local government; the criminal and judicial systems; public contracting; the media, business and civil society.
At the heart of the report – and indeed Transparency International's work as a whole – is a belief that "it is the responsibility of... political leadership to effect change".
Of course, it is doubtful whether such change will be forthcoming from the present government, or indeed a government led by Fine Gael.
Corruption, both legal and illegal, has been a central feature of our political system for decades. It is ingrained into the political culture of the state's two main political parties. Whether it is the acceptance of bribes in council chambers in the 1980s, the selling of political access at the Galway Races in the 1990s, or the illegal loans by bankers and party donors in the 2000s, corruption continues to blight our political process.
The reforms outlined in Transparency International's Ireland report are important and must be supported. However, if we are to get the political leadership needed to effect change, then we will need to change our political leadership.
Transparency International can only point out what needs to be done, we the electorate need to do our part and now, more than ever, what is needed is a change of government.
• Copies of the report are available online @ http://www.transparency.ie

An Phoblacht Magazine
AN PHOBLACHT MAGAZINE:
Don't miss your chance to get the second edition of the 2019 magazine, published to coincide with Easter Week
This special edition which focuses on Irish Unity, features articles by Pearse Doherty, Dr Thomas Paul and Martina Anderson.
Pearse sets out the argument for an United Ireland Economy whilst Pat Sheehan makes the case for a universally free all-island health service.
Other articles include, 'Ceist teanga in Éirinn Aontaithe', 'Getting to a new Ireland' and 'Ireland 1918-22: The people's revolution'.