19 March 2009 Edition
Taoiseach must re-engage with social partners - Doherty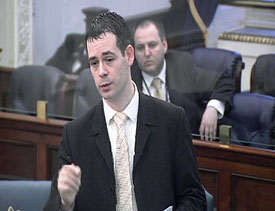 REACTING to news that the Irish National Teachers Organisation (INTO) will take part in a one day work stoppage closing all 3,200 primary schools across the 26 Counties on 30 March as part of protests against the pension levy Sinn Féin Education Spokesperson Senator Pearse Doherty called on the Taoiseach to re-engage with the social partners and build a resolution based on ICTU's ten point plan.
The Donegal Senator said: "The implementation of the pensions levy has the potential to propel the state into the economic abyss with an all out industrial relations catastrophe.
"The Taoiseach must re-engage with the representative of the workers of this state upon whom he wishes to apply this pay cut. Workers have already had to forego pay increases which have been agreed at partnership level and in the spirit of true partnership and respect the Taoiseach has an obligation to re-engage.
"The implementation of the pension levy along with the reneging on agreed pay increases will see many teachers lose up to 20% of their salary before next month's budget which promises even further cutbacks.
"The pension levy is the straw that broke the camel's back for the teachers who have been working in the midst of massive cutbacks in the education sector.
"Sinn Féin feels they are justified in taking strike action against this unfair pay cut and will continue to support teachers and other unions in their efforts to defeat the implementation of the pension levy."