19 February 2009 Edition
Brigadista Bob Doyle honoured in his native city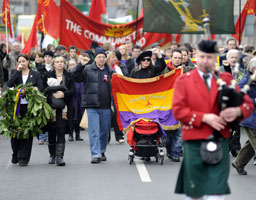 THE last surviving Irish member of the International Brigades from the Spanish Civil War, Bob Doyle, who passed away in January, was remembered with honour in his native Dublin at the weekend.
Organised by Bob's friends and family, a celebration of the life of the late Irish revolutionary was attended by, among others, representatives from Sinn Féin, the Communist Party, the Irish Congress of Trade Unions, SIPTU and the Independent Workers' Union.
A sizeable Sinn Féin contingent included Gerry Adams, Education Minister Catríona Ruane, MLA Francie Molloy and Aengus Ó Snodaigh TD.
A native of Dublin's north inner city, Doyle was brought up in the appaling poverty of Dublin's tenements in the 1920s and 1930s. As a youth living in North King Street, he joined Fianna Éireann in his early teens and was involved in resistance against the fascist Blueshirts. On one occasion, badly beaten up by 'Animal Gang' thugs, he suffered permanent damage to one eye.
Bob later joined the Irish Republican Army and was assigned to the Dublin Brigade, where he was trained by Tan War and Civil War veteran Kit Conway. In remembrance of this, and in Bob's honour, the historic flag of the Dublin Brigade was carried during the procession which was led by a lone piper from Parnell Square to Liberty Hall on Saturday.

CONNOLLY COLUMN
In 1936, Bob volunteered for the International Brigades and the James Connolly Column and went to Spain to fight Franco's fascists.
Along with other IRA Volunteers, he was valued for the military training he already had and which was put to good use in training the new international recruits. Captured at Gandesa by Italian fascists, he was imprisoned in atrocious conditions and subjected to extreme brutality.
Eventually released in a prisoner exchange, he never gave up the fight against fascism. He joined the Spanish Communist Party and continued even after the withdrawal of the International Brigades to play a part in the clandestine struggle against fascism in Spain, risking death on a daily basis as he made secret journeys into Spain to network the resistance.
Bob Doyle's family led last weekend's procession through Dublin city centre, pushing a child's buggy in which a wooden box containing his ashes was placed, along with the flag of the International Brigades.
At Liberty Hall, a wreath was laid at the plaque to the 60 Irish who died in the Spanish Civil War.
There was tea and sandwiches laid on at the trade union HQ after the procession where old friends and comrades were given a chance to sit and have a yarn about a man who has become a revolutionary icon in Ireland and beyond.
IRA VOLUNTEER: In recognition of Bob's role as an IRA Volunteer, the historic flag of the Dublin Brigade was carried on the parade