19 February 2009 Edition
Workers gear up for mass demonstrations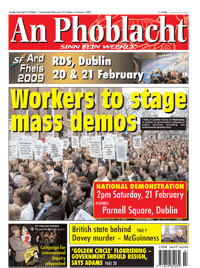 A series of major demonstrations led by the Irish Congress of Trade Unions (ICTU) begins this Saturday following the recent collapse of talks between the Irish Government, trade unions and employers' groups on finding an agreed approach to tackling the current economic crisis.
It also comes on the heels of widespread outrage over the government's controversial and deeply unpopular pension levy.
The trade union movement is pressing for the introduction of a social solidarity pact as part of a solution to the current economic crisis and ICTU has developed a 10-point plan for economic recovery.
ICTU and its affiliated unions, including SIPTU, the largest union in the country, have organised a mass demonstration for Saturday, 21 February in Dublin.
David Begg said that it was decided to concentrate resources and attention on one major demonstration in Dublin as the first step in a rolling campaign of action

Congress General Secretary David Begg said that following consultations with member unions it was decided to concentrate resources and attention on one major demonstration in Dublin as the first step in a rolling campaign of action. The march will begin in Parnell Square at 2pm this Saturday. It is expected that other action will follow across the state as required.
Jack O'Connor, General President of SIPTU said during the week that time was running out to reach agreement on such a pact. He also said that some in the financial services industry were "waging psychological terror on PAYE workers".

CRONY CAPITALISM
The Civil, and Public Services Union (CPSU) staged a demonstration outside the Dáil at lunchtime this Wednesday, 25 February over the pension levy.

Sinn Féin Finance Spokesperson Arthur Morgan TD, speaking during a Dáil debate on the Pension Levy on Tuesday, described it as a "punitive, mean spirited and fundamentally unjust attack on working people in the public sector".
Morgan said the culture of crony capitalism that was championed by Charlie McCreevy with his deregulation dogma still forms the basic structure of our financial system.
Sinn Féin, he said, had consistently stated that any measures to address the public finances must be done on the basis that "those who have the most pay the most".
He repeated his calls for legislation to compel persons such as Seán FitzPatrick to appear before Oireachtas Committees and for a job creation strategy based on realistic proposals to create a sustainable and equitable economy.
He said the Government had basically asked public workers to pay for a boom they never benefited from.
"Enough is enough. People are sick and tired of the bankers getting away with it while ordinary people are being made to pay. The claim by the Minister for Finance last week when he handed €7 billion of tax payers' money to the banks that bonuses had been done away with is bull. Bonuses are not gone, they have simply been put on pause for 12 months and the banks are free to use what's left of the €7 billion to start paying themselves outlandish bonuses again in 2010. All we are getting for €7 billion which is set to come out of the pockets of ordinary workers is a token 25% hold of the Board of Directors. We have all seen how meaningless the Government's 25% holding on Aer Lingus is and how ineffective the Government has been", Morgan said.

CORPORATE RAIDERS
He said the pension levy has demoralised thousands of public sector workers and has shocked the country at a time of crisis.
"And what Fianna Fáil and the Greens have effectively done is to reduce people who are on modest incomes to a point where they are struggling and made struggling families poor. This is not to mention the thousands of workers who for a variety of reasons have been unable to qualify for a full state pension yet they are still being asked to fork out hundreds of euro every month to a pension that they will never see", he said.
SIPTU's Jack O'Connor said time was running out to reach agreement. He also said that some in the financial services industry were 'waging psychological terror on PAYE workers'

The Louth TD said ordinary workers were right to feel "utterly disgusted" at the Government's decision to make them pay for the mistakes of the Government and their friends.
"Apart from the damage that the Government has done to my constituents and constituents of every deputy in this House, this whole affair is going to prove to be utterly futile. The so called €2 billion that the Government has announced it will save will be completely wiped if our unemployment continues to go at the same rate as it did in January."
Cut backs would do nothing to stimulate the economy or create jobs. Investment and planning would, he said.
"And it is job retention and job creation which will address the public finance deficit. My colleagues and I in Sinn Féin accept that there are wastages but we do not accept that it is low and middle-income earners who are the cause of this. Rather we see that outsourcing which has grown with the culture of deregulation that Charlie McCreevy promoted as the real waste of public money. And when we can finally get a clearer picture of how much money is being used to subsidise these corporate raiders operating on the back of our public services, it will become clear that privatisation is the biggest waste of public money of all time.
We will be supporting workers in their national day of protest and we will continue to be the one party to call for a job creation strategy based on realistic proposals to create a sustainable and equitable economy

— Arthur Morgan TD

Echoing the words of SIPTU's Jack O'Connor Morgan said the "psychological war" against public servants began when "the likes of IBEC, Government Ministers, certain elements in the media and Fine Gael began kicking lumps out of our public services. These elements have used the economic crisis to attack public workers and public services. And it is utterly opportunistic in the extreme for Fine Gael TDs to be claiming that they are opposed to the levy when their own leader said only last September that the public service is 'bloated and inefficient'".
He said that what Fine Gael and IBEC are really after are not improvements in work practices but simply cut backs.
"Sinn Féin will continue to oppose the pension levy, we will be supporting public workers in their national day of protest and we will continue to be the one party on this side of the House to call for a job creation strategy based on realistic proposals to create a sustainable and equitable economy."  
ROLLING CAMPAIGN: Jack O'Connor and David Begg