5 February 2009 Edition
Another View BY EOIN Ó BROIN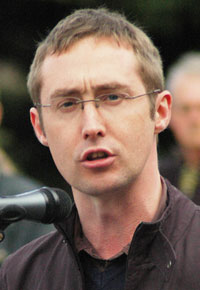 Do you really want a 'Ryanair Europe'?
YOU heard it here first, folks: I challenge Michael O'Leary to a public debate on the Lisbon Treaty, anytime, anywhere, with any audience.
Speaking to the Irish Examiner in December last, the Ryanair boss had a few things to say about Sinn Féin and our opposition to the Lisbon Treaty.
Not only does Michael think Sinn Féin part of the "lunatic fringe" and "a bunch of economic illiterates" but, "If the Shinners are urging a 'No' vote, then you should know to vote 'Yes'."
Now, having had a good Christmas break, Mr O'Leary is at it again. Speaking to the weekend papers in January, he committed himself to playing an active role in the second Lisbon Treaty referendum campaign, partly in support the Treaty and partly to put it up to 'the Shinners'.
So, Michael, any time you want to publicly humiliate me by exposing my economic illiteracy and the lunacy of my opposition to the Lisbon Treaty, just say the word. I'm willing and waiting.
Of course, it should surprise no one that the business mastermind behind the low-cost airline revolution should support the Lisbon Treaty. After all, it was drafted during the EU's most ideologically right-wing period. If ratified, the Lisbon Treaty would move the Union further along its current neo-liberal path.
Indeed, a comparison between the Ryanair business model and the Lisbon Treaty economic and social model is apt.
Both projects see competitiveness as the holy grail of success. In doing so, both seek to cut costs to the bare minimum. Maximising profit comes before everything else. Whatever gets in the way has to go.

 I challenge Michael O'Leary to a public debate on the Lisbon Treaty, anytime, anywhere
Take workers' rights, for example. Ryanair opposes trade unions and internationally-recognised labour standards. The Lisbon Treaty seeks to undermine collective bargaining established wage agreements and workers' rights secured over a century of struggle.
Such 'distortions to competition' have no place in Ryanair's business model or the Lisbon Treaty's economic and social model. The market must be allowed to operate unhindered.
Of course, you have to have some sympathy for Michael O'Leary. After all, he is a businessman, and a hugely successful one at that. Thanks to Ryanair, people can fly at low cost all over Europe. OK, so the staff are badly treated, the planes are uncomfortable and, if you're grounded due to fog, you're on your own. But we all fly Ryanair and you don't hear us complaining.
The question you have to ask yourself, however, is should we run our countries or indeed the EU like a low-budget airline? Imagine a Ryanair primary school, with barely enough room between the desks for your legs. Or how about a Ryanair hospital, where the food costs you an arm and a leg. Even better, a Ryanair Court of Justice, where anti-worker judgments rain down like confetti.
Do you really want a 'Ryanair Europe'?
Michael O'Leary is a successful businessman. He should stick to what he knows. There are enough political illiterates running the European Union already.