5 February 2009 Edition
Journalist joins North Tipp ticket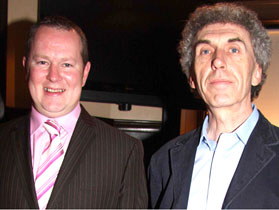 NENAGH GUARDIAN former columnist and now freelance journalist Tom O'Donoghue is joining Councillor Seamie Morris in Sinn Féin's bid to win two seats on Nenagh Town Council in the local elections in June.
Morris will also be running for the North Tipperary County Council in the Nenagh/Borrisokane area.
Both candidates were selected at a convention last Friday chaired by Councillor Toireasa Ferris, Sinn Féin's candidate for the South constituency in the European elections.
Toireasa Ferris spoke of the very high stakes during this period of economic crisis. She praised the high calibre of both candidates and urged the people of Nenagh and North Tipperary to put their faith in Sinn Féin as an alternative to the policies of the Establishment parties who have run the economy into the ground.
Councillor Seamie Morris, Tom O'Donoghue and Toireasa Ferris united in expressing their full support for the retention of all services at Nenagh Hospital. "The party will continue to vigorously oppose the privatisation of health services", Councillor Morris said.