5 February 2009 Edition
EDUCATION IN THE NORTH: Sinn Féin minister acts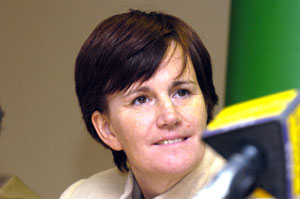 Caitríona Ruane issues post-primary transfer guidance
ON 2 February, the Sinn Féin Education Minister in the Six Counties, Caitríona Ruane, issued guidance to schools on post-primary transfer procedure in 2010. In the face of continuing opposition from unionist politicians in the Executive to Sinn Féin's proposals to phase out academic selection over a three-year period, Ruane says she must act now to provide clarity on transfer arrangements for children, parents and schools.
Since taking up her role as Education Minister in May 2007, Ruane has sought to achieve political consensus to give a legislative basis to new transfer arrangements to replace the 11-Plus transfer test, which was sat for the last time by Primary 7 pupils last year, but the DUP and UUP have blocked Sinn Féin's proposals.
The ambitious reform package aimed to abolish academic selection over a transitional period of three years and replace selection at 11 with informed choice by students about their educational pathways at 14. The minister proposed a move towards area-based planning of sustainable schools where students will be accepted on community, geographical and family criteria.

COMPROMISE
Speaking in the Assembly on Monday, Ruane said:
"On two occasions the Executive has refused to discuss my proposals for new transfer arrangements – proposals which are based on a position of compromise and are attempts to introduce equality into an outdated education system."
The Department of Education has the power under the Education Order 2006 to issue admissions guidance to post-primary, grant-aided schools which all schools are legally bound to "have regard to".
The guidance issued by the minister on 2 February aims to ensure equality of access to schools for all children, including children entitled to free school meals and those who live in rural areas. It recommends that all schools use as their first criterion a measure to ensure that children entitled to free school meals gain admissions at the same rate as all other applicants.

Following this, the guidance advocates the general use of other non-academic, area-based criteria to select students, including:

Sibling;
Eldest child;
Feeder primary school;
Parish (with nearest suitable school);
Catchment area (with nearest suitable school);
Nearest suitable school; and
Random selection to be used as a tie-breaker.

The minister has withdrawn her legislative proposals to phase out academic selection and her department's commission to the Council for the Curriculum, Examinations and Assessment for a standardised transfer test over the proposed transition period.
The guidance, which has been issued for 12 weeks' consultation, recommends that schools do not use academic criteria to select pupils and advises primary schools that they should not distort the revised curriculum being taught in schools to prepare children for unapproved tests being organised outside the mainstream education system.

PROGRESS
While the ideal outcome of the education reform debate that has taken place over the past couple of years would have been political agreement for the transition to area-based planning of schools, significant steps forward have been made in transforming our education system despite fierce opposition.
The Department of Education launched the 'Every School a Good School/Gach Scoil ina Scoil Mhaith' programme in September which includes a strategy for improving numeracy and literacy and provides departmental assistance to struggling schools. The new Entitlement Framework will ensure that all young people have access to a much broader choice and options throughout their secondary education, delivered by collaborating schools.
While the unionist parties and elitist grammar schools represented by the 'Association for Quality Education' (AQE) schools disagreed with abolishing academic selection on ideological grounds, a wide consensus has developed through the Education Minister's process of consultation in support of Sinn Féin's proposals, including the vast majority of educationalists, the secondary heads, all five teachers' unions active in the North and the SDLP.
In addition to the development of area-based planning on the ground, the consensus against selection that has been achieved must be built upon further across all communities in order to achieve a legislative basis for an alternative transfer system based on equality of access in the future.

The 11-Plus test – which was designed in 1947 and for six decades condemned the majority of children in the North as academic 'failures' – is gone for good.
Sinn Féin President Gerry Adams said:
"That would not have happened under the unionist parliament and it would not have happened under British direct rule. It did happen because a Sinn Féin education minister was not prepared to allow an obsolete 11-Plus system to continue to adversely affect the lives of tens of thousands of children."
The guidance regarding the admission of free school meals-entitled (FSME) children is a very positive initiative, which has the potential to help halt, rather than perpetuate, cycles of poverty and disadvantage, if the grammar schools take this opportunity to step up to the challenge of contributing to social equality.
Ruane highlighted the figures that are a dismal indictment of the role academic selection plays in fuelling the cycle of disadvantage. According to Department of Education figures, one in 17 children in academically selective schools was on free school meals while one in four children in other schools were FSME.

ELITISM
Commenting on the actions of the unionist parties in blocking legislation for new transfer arrangements, Gerry Adams said:
"It is unfortunate that the DUP politicised the issue of education. Disadvantaged communities in the lower Shankill and Newtownards Road will gain no benefit from this political posturing. The DUP position on academic selection is not based on the needs of children but entirely and solely on Sinn Féin's opposition to it."
During the selection debate, the DUP – and most of the media in the North – have completely avoided the reality of the challenges facing the education system in the North and the fact that objective factors mean reform of the secondary system is unavoidable. The key issue is that demographic decline means empty desks are hitting the secondary sector disproportionately hard – in 2006/07, one in five spots in secondary schools were vacant, meaning these schools struggle for the resources to provide the full curriculum and entitlements all students should have access to.
The role of the grammar lobby, organised in the AQE, has been to put the narrow interests of their own institutions ahead of the needs of children or society.
But no matter how many times Kenneth Bloomfield, head of the AQE, repeats the phrase "heavyweight legal advice", it won't change the fact that there would be no legally enshrined basis for grammar schools discriminating against students using academic admissions criteria. And while the transfer test is provided by the CCEA, it is delivered by a professional, dedicated and expert educational body complete with appeal mechanisms.
Education Minister Caitríona Ruane said:
"2010 represents an opportunity for all of our grammar schools to make their excellent provision available in a fair manner for the first time. What the department's admissions guidance asks a grammar school to do is sustain these traditions of academic excellence not by exclusion but by the quality of its teaching and learning.
"I believe that the breakaway grammar schools will in time accept that their pupils are better served if they are part of, rather than outside, the mainstream education system."
Gerry Adams said:
"This week is the beginning of a new opportunity for every child in primary school in the North.
"The programme of change which the Education Minister will introduce and manage will provide a better education service that any we have had before. It will ensure that those who would have done well in the old system will still thrive, and those who would have been left behind by it will now have new opportunities and new possibilities and hope for the future."