5 February 2009 Edition
Morale high as party organisers plan ahead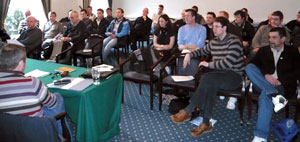 JUST one year on from its inception Sinn Féin's Organisational Development Unit (ODU) had its first Anuual General Meeting. From the length and breath of the 26 counties Organisers gathered in Dublin on Saturday, 17 January for a daylong conference to assess the work of the previous year and to lay out the strategy for Sinn Féin in the 26 counties over the next year. Morale was high among those in attendance, and there was both confidence and determination that the ODU is the strategic tool necessary to carry the growing political momentum in the 26 counties.
After Shane MacThomais of the Party Development Unit, who now works within the ODU, welcomed organisers, Party president Gerry Adams welcomed the chance to speak with "one of the most important undertakings that the party has ever undertaken on organisation". He went on to say that the party has not approached a programme of co-ordination, and planning like this since 1917.
"In the past Sinn Féin put up the flag and awaited for people to come to us. This time we are involved in a process of going into the communities and engaging with republicans and like-minded folk across the South", he said.
Dawn Doyle then outlined the current political climate emphasising the huge role played by the ODU in the campaign against the Lisbon Treaty and the upcoming election campaigns.
Seán Hughes outlined the work that has been carried out by the ODU since its formation and a strategy for the ODU in the coming year. Key targets include doubling the number of members of Sinn Féin and increasing the party's City and County Council seats at the next local elections. This year will see the ODU going into a sustained political offensive, including 26 County-wide campaigns on the all-Ireland agenda, health and crime, and another Lisbon Treaty campaign.
A number of practical steps were outlined which members could take immediately in their own areas to start making the plan a reality. A question and answer session followed where the ODU officers commented on many of the successful initiatives that had born fruit in 2008.
After a break there was a brief report on election preparation in each of the areas from Darren O'Rourke, Ciaran Doherty and Ken O'Connell.
The daylong seminar was closed by Declan Kearney who outlined the strategic framework within which republicans must operate and some of the challenges and opportunities ahead. "Now is our opportunity and let nobody in this room doubt that if they double their efforts we will create the republic", he concluded.