5 February 2009 Edition
Interview: Le Chéile International honourees: Rosie and Eddie Caughey
 The Caughey Clan – A team effort
ROSIE AND EDDIE CAUGHEY are the International honourees for this year's Le Chéile event. It was a team effort as the couple, along with their eight children, played a vital part in the republican struggle in the very hostile atmosphere of England right throughout the 1970s and since.
Although Eddie was the public face of the family's political activism, Rosie was the backbone of the team who enabled the family to participate in the struggle.
They talk to ELLA O'DWYER about the nature of that participation and the particular difficulties that went with being an Irish republican living in England.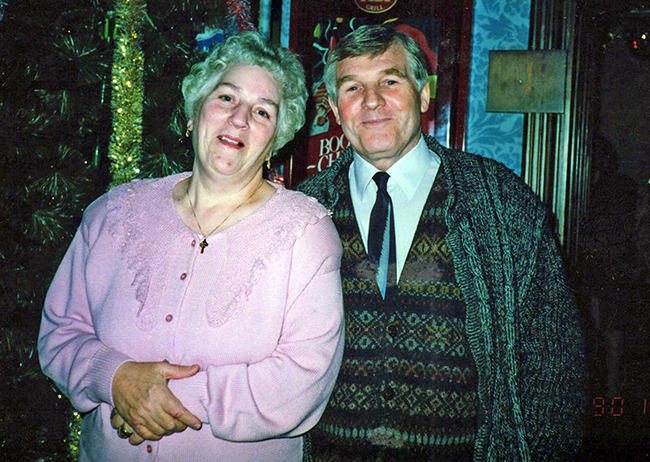 • ROSIE AND EDDIE CAUGHEY
ROSIE AND EDDIE, both now 78 years old, were childhood sweethearts. In fact, there's only four weeks between their birthdays – both were born in October 1930.
They grew up in Catherine's Street, off the Falls Road in Belfast. Rosie attended the local girls' school, St Catherine's, before leaving when she was 11. She worked as a fancy box maker.
Eddie left school when he was 14, after which he held a few short-term jobs before leaving for England at the age of 18 in search of employment. Rosie followed soon afterwards.
Eddie worked in the building and catering industries in London before moving to Birmingham, where he and Rosie married and raised their eight children, three girls – Una, Sarah and Margaret – and five boys – Eamon, James, Dermot, Thomas and Séan.
In Birmingham, Eddie worked as a steel erector and was very involved in developing trade unionism in the various sites where he was employed, holding positions such as shop steward, union secretary and chairperson.
• Volunteer James McDade
"About 1969-1970," Eddie recalls, "I became a member of Sinn Féin in Birmingham. I carried out the usual cumann work along with organising demonstrations at national and local level to highlight issues like internment and the hunger strikes. We suffered the deaths on hunger strike of Volunteers Michael Gaughan and Frank Stagg in Parkhurst and Wakefield jails. Then there was the death of Volunteer James McDade in a premature explosion in Coventry."
When Volunteer James McDade was killed in 1974, Eddie accompanied the coffin to Ireland and soon after that the Caughey home was raided by Special Branch. The police wrecked the house. That was one of many raids on the Caughey home over many years.
In the early 1970s, Eddie got involved with An Cumann Cabhrach, the prisoners' dependants' organisation, eventually taking charge of it in England and over the years became steeped in work supporting republican POWs in England.
"We soon had growing numbers of republican prisoners in jails in different parts of England. Relatives visiting the various prisons were looked after by people in the areas concerned and small funds were sent into the prisoners and any other item that were allowed and requested were provided."
One of the challenges involved was to keep the public abreast of the whereabouts of the POWs as there was a policy of what's called 'ghosting' applied in the English penal system, whereby prisoners would be moved from one jail to another at a moment's notice and often on the day of an arranged family visit.
Families might have travelled from any part of the four corners of Ireland to a jail to be told that their relative had been moved to another jail hundreds of miles away.
Even though practically any prisoner who served time in jail in England will know the names of Eddie and Rosie Caughey, some may never have actually met them, so the Le Chéile evening will be a great opportunity to do so.
"It was difficult to get clearance to visit prisoners in English jails. The only prisoners I got to visit in England were Joe McKenny and Brendan Dowd just before his release and exclusion from England," Eddie says.
"In later years, Rosie and I went to Ireland and visited some of the families of the prisoners and some prisoners in Long Kesh and Maghaberry."
One of the homes he visited was that of another of this year's honourees, Eddie Butler, who recalls that his family met Eddie both in Limerick and when they were over on visits in England. The two Eddies were in Brixton Prison for a period at the same time. That was in 1975 when Eddie Caughey was arrested under the Prevention of Terrorism Act.
"I was released after being held in prison on remand for 12 months. After that I found it hard to get work as my arrest had been covered in the Fleet Street media."
With eight children to fend for, Rosie and Eddie suffered severe financial hardship. Not only did Eddie lose his job then but so too did his eldest daughter, Una, who had been working for a solicitor who told her he would have to let her go, again because of the media coverage. But Una has no regrets about that.
"We were brought up with republican values and raised to think of others and not just ourselves," she says.
Another of the children, Eamon, was interned in Long Kesh in the early 1970s.
Crucial to Eddie's political activism was the staunch support of his wife, Rosie, who backed him all the way, as did all their children, enduring police harassment and house raids.

Eddie Caughey has nothing but praise for his lifelong partner and fellow honouree.
"Rosie looked after the children and fully supported me in all I was involved in, likewise my family.
"Relatives of prisoners and speakers from Ireland stayed in our home. Anything I was involved in was only made possible because of my wife Rosie who unselfishly took on the burden of home and family without complaining.
"A lot of abuse was directed at Rosie and my family following the Birmingham bombings and during my Brixton remand, but they remained strong. I had their constant visits and support during that time."
Despite the arrest, police harassment and financial strain, the Caugheys never flinched when it came to their commitment to the Republican Movement. They have worked tirelessly on behalf of the POWs, visiting jails the length and breadth of England.
A striking characteristic of the three Caugheys I spoke to – Eddie, Rosie and daughter Una – is their modesty and mutual respect as republicans.
"Whatever little we did," says Eddie modestly, "we did as a team." 
POWs who served time in jails in England will forever be indebted to Eddie and Rosie and their family.
 • 1985: Eddie Caughey in the background (right), with the late Oliver De Brún, another prisoners' activist (background, left), former POW Gerry Mac Lochlainn and Alex Maskey at the relaunch of the POW repatriation campaign