5 February 2009 Edition
Memories of Kathleen Largey: Singer, republican and comrade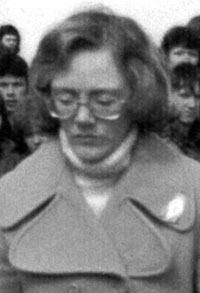 Revolution in the air

BY PEADAR WHELAN

WHEN Miriam Makeba, the legendary South African singer, died in November last year, the world lost a great singer.
The South African nation's collective heart missed a beat as the woman, known as 'Mama Afrika', passed away.
Stilled was the voice that gave expression to the South African people's struggle for freedom over four decades.
In exile for most of those years – the apartheid regime revoked her passport in 1963 after she testified against its race laws at the United Nations – Makeba never stopped campaigning, on her people's behalf, for justice.
Her music was her political weapon and she wielded it until the day she died performing in a concert in support of Roberto Saviano in his stand against the Mafia-like Camorra in Italy.
Irish republicans were in a similar position in 1979 when the voice of Irish republicanism was stilled by the death of
Kathleen McCready, famous as Kathleen Largey and the voice of The Flying Column, one of the finest ballad singers in Belfast. The 30th anniversary of Kathleen's death occurs next Monday, 9 February.

INSPIRATION
Along with her husband, Eamonn, they formed the band in the late 1960s and travelled the length and breadth of the country, performing to audiences invigorated by the revolutionary mood of the time.
Kathleen delivered those patriotic songs and ballads that told the story of heroic resistance to the occupation and enslavement of Ireland by the British in a way that inspired her listeners to action.
As a republican, her activism was her music and her music was her activism.
While our political enemies dismiss these songs as, 'rabble rousers', the fact that they were being performed to audiences all over Ireland ensured that the history of resistance that the revisionists wanted to bury was being celebrated.
And, more importantly, they were being celebrated at a time of intense struggle when the British war machine and its loyalist surrogates were attacking nationalist communities day and daily.
It was important then that morale within nationalist communities was kept up and the Flying Column was foremost in ensuring that the confidence that brought the people on to the streets maintained.
The headlines of the day may have been captured by John Hume, Gerry Fitt, Eamon McCann and Bernadette Devlin but Kathleen Largey made her mark on the youth of the day through her songs.
The generation of young nationalists politicised by the Civil Rights protests, who witnessed the savage brutality meted out to peaceful protesters by unionist stormtroopers in the uniforms of the B-Specials and the RUC, knew that the demands of the Civil Rights movement did not go far enough.
They knew, instinctively, that it was 'a United Ireland or nothing'.
Martin McGuinness recalls what an important role there was for songs of struggle.
"I recall concerts here in Derry that Kathleen performed at and it was a great morale boost for republicans here at a time when they were under fierce pressure under British occupation. People warmed to her because they knew she was singing from the heart. She lifted our spirits."

CARNEGIE HALL
Writing about Kathleen Largey, whom he met her in 1972, Sinn Féin President Gerry Adams recalled that he knew Kathleen through her songs before he come to know her as a friend.
"Kathleen McCready was one of our city's foremost ballad singers. She sang all over the country and could have enjoyed a lucrative music career if she had kept to conventional' music.

"Indeed, during a sojourn in the USA she sang in Carnegie Hall. But Kathleen was first and foremost a republican, a member of Cumann na mBan, and when she joined up with Eamonn Largey they, along with some other fine Belfast musicians, formed The Flying Column.
"That was in the late 1960s and in 1970 and 1971 the Flying Column's recordings, Folk Time in Ireland and Four Green Fields, were best sellers."
Tragically, Eamonn Largey was killed in a car accident in July 1973. He and Kathleen had two daughters. Áine was about 18 months old while Máire was six weeks.
Adams wrote how he "watched Eamonn's funeral from a side street as it made its sad, slow way up the Falls Road. The British Army watched from another corner. Eamonn would have been delighted."
Not long after Eamonn died, Adams was arrested.
As a firm ally of Green Cross, Kathleen soon became heavily involved with Republican Prisoners' Welfare. Adams recalls one of Kathleen's more adventurous actions after Long Kesh was burned down in 1974.
"She emptied the contents of a friend's clothes shop and transported them up to the jail so that within days of the place being reduced to ashes out of the ashes arose a crowd of bogging dirty POWs kitted out in the latest and most fashionable flairs and Showaddywaddy gear".

HARRY THOMPSON
It was around this time that 'Wee Harry', as Adams calls him, came into the picture.
Harry Thompson started to work for the prisoners and he and Kathleen became very close.
It was during this time that Kathleen was diagnosed with cancer and when she and Harry were married in June 1976 she had already undergone surgery. She refused to acquiesce to her illness and continued with a hectic schedule of prisoners' welfare work. She also worked for the comfort of cancer patients.
By now the protests in Armagh Women's Prison and the H-Blocks had commenced. Kathleen kept very close to the women prisoners in Armagh during this crucial time. Kathleen visited both prisons frequently. She and Wee Harry were a great team.
Until this time Kathleen was singing regularly for the republican cause. This had been her lifelong contribution to the struggle. She had a special and long-standing affection for the work of the National Graves Association and a long involvement, since the time of her old friend Jimmy Steele, with the Belfast Graves.

FRUSTRATION
Confined more and more to the house and frequently in hospital, her inability to continue this work was the cause of almost constant frustration.
Once, not long before her death, Colette Adams found Kathleen in tears. Someone had sent her a new song about the H-Blocks and she was trying to record a demo tape on her tape recorder. But her once strong beautiful singing voice was victim also of the illness which was now in her lungs. Kathleen just couldn't get enough breath.
Her records were still selling well during this period and not long before her death she released The Price of Justice.
By now Kathleen was in her final struggle with the disease which killed her and on the Kerry track, if you listen carefully, you will hear how she had to battle valiantly to control her breathing.
By February 1979, Kate was confined for a long time and it was on 9 February that she died.
• Two of the best-known albums recorded by the Kathleen and The Flying Column are again available.
Legion of the Rearguard and The Price of Justice contain many of the old republican classics recorded by the group in the early 1970s and with Kathleen's voice ringing out as true as ever.
They're available in the Art Shop, 51/53 Falls Road at £10 each or from the Sinn Féin Shop, 44 Parnell Square, Dublin or www.sinnfeinbookshop.com at €15.
All proceeds from the sale of the albums go to the Green Cross.