16 October 2008 Edition
Sinn Féin is still committed to free universal healthcare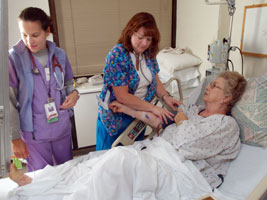 IN ITS edition of 10 October, The Irish Times falsely reported that Sinn Féin's Budget Priorities document has rowed back from the party's fundamental policy position of universal, single-tier public healthcare, free at the point of delivery.
The following letter correcting the false report was submitted for publication but — up to An Phoblacht going to press – has not been published.
A chara,
In your report of Sinn Féin's Budget 2009 Priorities you stated that it "retreats from the provision of free universal healthcare". This is completely false.
The Health section of our document states:
"The only guarantee of real efficiency in our health services will be fundamental reform and the establishment of a universal public health system with access based on need alone, free at the point of delivery and funded from fair and progressive taxation."
We also call on the Government to immediately establish a Health Funding Commission to report within a year on the costs of the transition to a new single-tier, public health system with universal provision, taking into account all spending on health services under the current systems, including state funding and spending on private health insurance.
We call for widening of eligibility for the Medical Card, the abandonment of the private hospital co-location scheme, and of all such Government subsidies for the private health industry.
Our full Budget Priorities document, Realising Ireland's Potential, can be accessed on www.sinnfein.ie
Caoimhghín Ó Caoláin TD
Sinn Féin Dáil leader  and spokesperson on Health & Children,
Kildare Street,
Dublin 2