16 October 2008 Edition
Rally calls for first-class public health service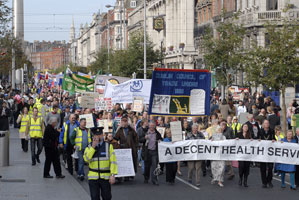 THE Public Health Service Campaign held a rally in Dublin on the Saturday before Budget Day to lobby against cuts and against privatisation.
Organised by the Dublin Council of trade Unions, ICTU Youth Committee and Patients Together, the rally attracted a wide range of support, including backing by Sinn Féin.
At the rally, Des Bonass of Unite the Union said:
"There is no MRSA in banks but they are saved while people die on trolleys."
Liam Doran, General Secretary of the Irish Nurses' Organisation, said that, even in these difficult financial times, the Government has got to learn from the lessons of the past.
"In 1987 we imposed health cutbacks. We took two decades to recover from that. If we impose cuts upon cuts upon the Irish health service our agreed endeavour to deliver a world-class health service will be put back another 15 to 20 years. We cannot afford to make that mistake.
"The Government took a correct decision that the economy couldn't afford to have the banks fail. This campaign and all the participants in it would say that the Government can equally take the same decision now in respect of the public health service. The health and well-being of the nation is as important as that."
'EVERY WAY POSSIBLE'
Sinn Féin Dáil leader and Health & Children spokesperson Caoimhghín Ó Caoláin said any cuts in public health services should be "opposed and resisted in every way possible". He said Sinn Féin will continue to campaign for universal public healthcare, free at the point of delivery and funded from fair and progressive taxation.
Deputy Ó Caoláin said that cuts in the name of cost saving are a totally false economy.
"The Government must draw back from the brink. It must not repeat the disastrous mistakes of the 1980s when our public health services were decimated by cuts, the legacy of which still haunts the system today.
"Fundamental reform, including the end of the two-tier public-private system, is the only guarantee of equality and efficiency in healthcare in Ireland. Sinn Féin will continue to campaign for universal public healthcare, free at the point of delivery and funded from fair and progressive taxation."