16 October 2008 Edition
UDA-linked scheme funded by Ritchie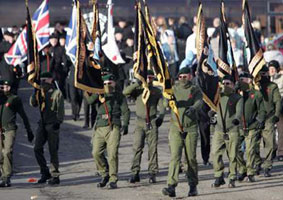 By Laura Friel 
A SPOKEPERSON for the North's Department of Social Development Minister Margaret Ritchie has described the SDLP MLA as powerless to stop her department's funding of a UDA-linked scheme. "The minister has absolutely no power to intervene," pending legal actions said the DSD.
"Last year in a great fanfare Minister Ritchie announced that she had withdrawn funding from the UDA-linked 'Conflict Transformation Initiative' (CTI) project," said Sinn Féin MLA Paul Maskey.
"People will be shocked at the revelation that Margaret Ritchie has continued to fund the UDA linked CTI project to the tune of almost £400,000 since she made her announcement ending this funding late last year," he said.
At the time Sinn Féin and all of the other Executive parties supported the DSD minister's position but warned that the approach she adopted, in not seeking Executive endorsement, left her decision open to challenge.
"Unfortunately it now seems that this position has been borne out. Since her announcement last year almost £400,000 of taxpayers money has been pumped into this project away from the glare of the media," said Maskey.
"I am quite sure that the vast majority of ordinary people will be shocked at this revelation. The manner in which the Minister went about taking her decision, chasing headlines instead of following procedures is the direct cause of this turn of events.
"What Minister Ritchie has achieved since her announcement last November is the continuation of funding to the UDA linked project in direct contravention of the position articulated by every other Executive party who wanted to see the funding ended," said Maskey.