2 October 2008 Edition
Roundabout named in honour of Sinn Féin's Michael Ferguson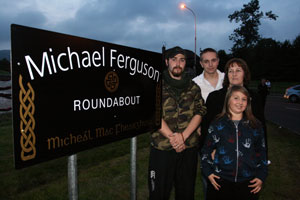 LOCAL republicans and community workers have renamed the Poleglass Roundabout on Belfast's Stewartstown Road in honour of Sinn Féin activist and MLA Michael Ferguson.
The renaming ceremony took place in the presence of the Ferguson family last Thursday, 25 September, the second anniversary of the Sinn Féin Assembly member's death.
Ferguson died suddenly of a heart attack two years ago and his passing left a huge void in the lives of his family and friends.
Ferguson had a reputation for hard work in the Poleglass and Twinbrook areas and his death touched the people of the area.
"He was a human dynamo," said party colleague Paul Butler MLA at the ceremony.
"He shifted effortlessly from one campaign to another: opposing death drivers, demanding an end to anti-social behaviour, protecting victims of crime, campaigning for better housing, traffic calming and more provision for youth and people with disabilities.
"He worked tirelessly to promote the positive aspects of the area, especially at this roundabout which he was so closely associated with. It is a visual reflection of his work at the gateway to the community."