2 October 2008 Edition
Adams meets major US investors in New York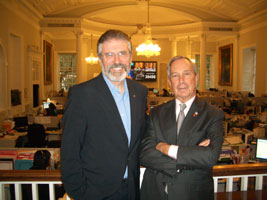 KEY investors from the United States met with Sinn Féin President Gerry Adams MP, MLA and a party delegation in New York last week.
Adams also attended the prestigious Clinton Global Initiative (CGI), of which he is a member. The CGI was established in 2005 by former US President Bill Clinton. The CGI brings together global leaders, activists, celebrities, Nobel Prize winners, business leaders and scholars for four days of discussions about some of the world's biggest challenges, including energy and climate change, global health, education, and poverty alleviation.
What makes the CGI unique and more than just another international talking shop is the emphasis it places on 'commitments to actions'. So, among the hundreds of projects which came together or were announced during this year's CGI were: the Pan-American Health Organisation announced a new $60.5 million programme of proven, low-cost interventions for maternal and child health that will benefit 750,000 women and 1.5 million children under the age of 2 in South American countries; more than a dozen non-governmental organisations (NGOs) pledged over $400 million to improve access to clean water in developing countries.
POLITICAL SIGNIFICANCE
The political significance of the CGI was also evident in the decision by both US presidential candidates, Senator John McCain and Senator Barack Obama, to speak at a plenary session on Thursday morning which addressed 'Integrated Solutions: Water, Food and Energy'. But the battle for the White House was clear in the emphasis both placed on how each believes the current crisis in Wall Street and within the US banking system should be tackled and how the proposed $700 billion bail-out programme should be used.
As well as attending the CGI, Gerry Adams also met with senior US investors. One of these, New York City Comptroller Bill Thompson, had earlier this year announced a $150 million investment package for the North.
Adams's discussions with the New York comptroller ranged over likely investment opportunities in west Belfast as well as the importance of the investment package being targeted at areas of social disadvantage and high objective need.
The previous day, the Sinn Féin delegation met with New York State Comptroller Tom Di Napoli. In their discussions, Di Napoli told the Sinn Féin leader that he was very impressed with the investment opportunities in the North and that his office has been looking closely at potential investment projects in recent months. The New York State comptroller expressed the hope that his office would be in a position to make investments available.
Both Bill Thompson and Tom Di Napoli acknowledged that the current crisis in the world global economy, and in particular in the US market, means that they must be very careful about future decisions. That said, they both expressed the firm opinion that this shouldn't adversely effect their investment plans for the North.
Before he left New York, Gerry Adams also met with New York Mayor Michael Bloomberg and he separately met with Robert Walsh New York's commissioner in charge of that city's Department of Small Business Services. Adams said:
"New York has an excellent record of creating new jobs through small businesses. We want to explore how their experience can help our small businesses to grow."
JOBS PRIORITY
Later on, speaking after a busy week, Gerry Adams said:
"Our priority during this visit was to meet with those investors and potential investors who can bring much-needed jobs and resources into west Belfast and other areas of the North and the border counties suffering from high levels of unemployment and social deprivation.
"Our focus is on ensuring that investment is used effectively to address existing patterns of social and economic disadvantage and target resources and efforts at those in greatest need whilst simultaneously developing our economy.
"Sinn Féin is determined to ensure that those who are living in the most deprived and divided areas do not end up getting the least out of increased prosperity and peace."