2 October 2008 Edition
Fury over farm leader's pregnancy jibe at Gildernew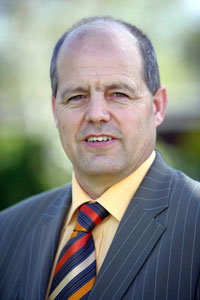 THE president of the Ulster Farmers' Union has been urged to withdraw comments about Agriculture Minister Michelle Gildernew's pregnancy which have been interpreted by many people and media observers as sexist.
UFU leader Graham Furey told the BBC last week that he wished Michelle well in her pregnancy but then went on to question whether she knows what is going on in agriculture. Linking the two has been seen as clearly sexist and implying that women cannot carry out their professional roles, especially when expecting.
Now West Tyrone MP Pat Doherty has called on the farmers' leader to withdraw his remarks.
"Graham Furey should reflect on his unprecedented attack on the Agriculture Minister. His remarks are inaccurate, ill-conceived and do a great disservice to the farming community that he claims to represent.
"It is beneath contempt that any farming official, let alone this new president of the UFU, should even bring the pregnancy of the minister into any argument."
The Sinn Féin vice-president added:
"Michelle Gildernew has fought the corner of our farmers every step of the way, not least in Europe.
"If the UFU president seriously believes that a local minister has not made a huge difference then he should look in detail at the victories achieved on behalf of farmers in Europe and with the Department for the Environment, Food and Rural Affairs.
"Would any other minister have acted as decisively during the threat from Foot and Mouth Disease when the minister personally intervened and demonstrated genuine leadership?
"Perhaps Graham Furey personally wishes that our farmers were subjected to a minister who would toe the British Government line. If that is the case he would be selling our local industry short."