2 October 2008 Edition
Fifth Column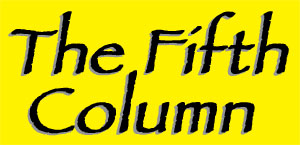 In God We Trust
AL-QAEDA has unleashed another strategy to bring down 'The Great Satan' – it's entered the mortgage market.
Fans of Howard Brown, the bespectacled song and dance man of the Halifax TV ads, can rest easy that Osama Bin Laden may be a rival but it's the US mortgage market that Al-Qaeda has its sights set on. Al-Qaeda is said to be snapping up shares like cocaine at a stockbrokers' Christmas Party.
While householders in Bradford & Bingley rest easier around their one-bar electric fire and a cup of Werther's Original Recession Bovril, their American cousins with Fannie Mae and Freddie Mac are looking over their shoulder for money market men even dodgier than the big bankers who have plunged them into misery.
America's Department of Homeland Security claims that 3,000 US firms have been targeted and the prime targets are technology and defence contractors but the property sector is being hit as well.
One "expert on terrorist funding", Brian McAdam, says, "There is no way of knowing where the money that buys shares comes from," something that never really seemed to bother the boys in the backroom before.
And Rachel Ehrenfeld, a director of the American Centre for Democracy, based in New York, adds of the Muslim money moves:
"The perpetrators include both states and organisations advancing a global totalitarian ideology disguised as a religion. The end goal is to impose that ideology worldwide."
A bit like capitalism, disguised as a sound economic ideology, imposed worldwide?


On the trail of Betsy Gray
A PROPOSAL to include the home of 1798 Rising heroine and Presbyterian rebel Betsy Gray in a tourist history trail in County Down has been dismissed by unionists on Ards Borough Council.
Betsy Gray was killed in the Battle of Ballynahinch in 1798 at the age of 20. It's thought she was killed alongside her brother, George, and her sweetheart, William Boal, as they fled from British forces chasing United Irishmen through the townland of Ballycreen. Now the ruins of her house have been discovered at Ballygrainey, near Newtownards, but unionists don't want it included in the history trail.
Ulster Unionist Councillor Ronnie Ferguson described the story of Betsy Gray as "a myth". This from a man who believes the British royal family rules through 'The Divine Right of Kings'.


Magic in Manchester
GORDON BROWN was delighted to get the boost of a £1 million donation from Harry Potter author JK Rowling during last week's British Labour Party conference.
As posters declared "Hogwarts for Labour", one minister was moved to suggest: "We're going to reduce the voting age to 12."


Sarah Palin v Iris Robinson
KERRY Fianna Fáil TD Billy Kelleher was drooling over hockey mom Sarah Palin on RTÉ Radio 1's Pat Kenny Show on Friday when Irish Independent columnist Sam Smyth pulled him up and said he should look closer to home.
"Dare I suggest that you look across the border at Mrs Iris Robinson," said Sam.
He should have gone to SpecSavers.


Millionaire monarch's misery
AMONGST the pensioners feeling the squeeze of the credit crunch, spare a thought for 82-year-old Mrs E Windsor of Buckingham Palace Road, London SW1. She faces a cash crisis by 2011 unless someone puts a rescue package together for her and her extended family living on state benefits.
Poor Mrs Windsor is struggling to get by on £400 million and, like her banker buddies she gave Queen's Awards for Industry to, she's asking the tax-payer to put their hands in their pockets again.
Normally, anyone in dire financial straits, and who is one of the wealthiest women in the world, might be expected to offload some of their assets. Balmoral Castle and Sandringham House are, however, not going in the Buy & Sell or on MyMansions.ie to feed the corgis.
Royal flunkies insist on receiving bigger state hand-outs, increasing the £15 million Joe Public pays to maintain Queenie's green and pleasant lands in her royal estates and the £7.9 million for the civil list, which funds top royals' trips around the world.
Mrs Windsor & Sons are already sitting on a black hole in the accounts to the tune of £32 million. If they were managing a bank instead of the royal household Mrs Windsor would be sacked or nationalised. Now there's a thought.


Rock ape's bite
HARD-RIGHT Tory Andrew Rosindell, the Essex MP who dresses his bulldog in a Union Jack, was in Gibraltar for the National Day celebrations when one of the Rock's famous resident Barbary apes bit him.
"One of them came along and took a bite out of my left shoulder," a rocky Rosser says.
Doctors don't think there will be any lasting damage. And they think Andrew Rosindell should be okay as well.


Fraud Squad
SCOTLAND YARD Terrorist Squad police officer Sergeant Richard de Cadenet has been jailed for 10 months for stealing more than £73,000 from public funds with his police-issue credit card.
The cards are issued to some officers for expenditure on official police business but the cad Cadenet used his American Express card to pay for a £9,000 holiday in Mexico and a £6,000 jaunt to Thailand for him and his mistress. Another £3,500 went on clothes and an executive box at a Premier League soccer club. More than £18,000 was withdrawn in cash to pay for luxury goods. Of 415 transactions on the card, only 28 were legitimate.
Another 26 officers are helping police with similar enquiries.


Waking the dead
BIRMINGHAM, in England, is the venue this week for the annual conference of the British Conservative Party.
It's also the location for England's first-ever 'Stop Snoring Bootcamp'.
Happy coincidence?

An Phoblacht Magazine
AN PHOBLACHT MAGAZINE:
Don't miss your chance to get the second edition of the 2019 magazine, published to coincide with Easter Week
This special edition which focuses on Irish Unity, features articles by Pearse Doherty, Dr Thomas Paul and Martina Anderson.
Pearse sets out the argument for an United Ireland Economy whilst Pat Sheehan makes the case for a universally free all-island health service.
Other articles include, 'Ceist teanga in Éirinn Aontaithe', 'Getting to a new Ireland' and 'Ireland 1918-22: The people's revolution'.