2 October 2008 Edition
DUP stance means Northern Executive meeting will not go ahead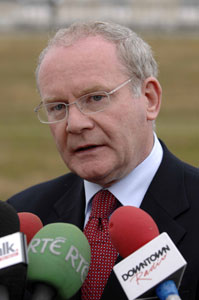 A MEETING of the North's Executive will not proceed this Thursday, deputy First Minister Martin McGuinness warned.
McGuinness put the cause of the obstruction firmly down to the DUP's unwillingness to accept true partnership in government. Martin McGuinness made his remarks following a meeting with joint First Minister and DUP leader Peter Robinson at Stormont on Tuesday.
Speaking to reporters immediately after the meeting McGuinness said: "Sinn Féin is not going to play second fiddle to a DUP agenda in these institutions." He said that the situation between the two parties was "very serious" and he warned the Stormont institutions could only work on a basis of "partnership and equality".
"In the course of recent days, we have been engaged in a number of discussions with the DUP aimed at agreeing an agenda for an Executive meeting on Thursday," he said.
"Agreeing an agenda means all issues of concern need to be put on the agenda – not simply those of concern to the unionist community or the DUP.
"Despite our efforts, this has not succeeded and no progress has been made. Therefore I see no basis for an Executive meeting going ahead this week."
Meanwhile, Sinn Féin President Gerry Adams has challenged Peter Robinson's argument that public confidence does not exist to set a timeframe for the devolution of policing and justice powers.
Gerry Adams also held talks with British Secretary  in the North Shaun Woodward at Stormont this week.
"We are in a very, very serious situation at this time, all of us, all of the MLAs, most particularly those people who are looking to us for leadership to deal with a range of issues," said Adams after meeting Woodward.
The Sinn Féin President rejected Peter Robinson's assertion that the unionist public would not tolerate a move on policing and justice at present, although he has conceded "it will" happen eventually.
Pointing out that the DUP and Sinn Féin had already agreed that in the lifetime of this Assembly, neither party will take a justice ministry, Adams said:
"The situation now is that both the DUP and Sinn Féin have agreed that at this time we will not put forward nominations for that ministry. So the community confidence issue is resolved."