11 September 2008 Edition
Two of Ballymurphy's bravest Volunteers to be honoured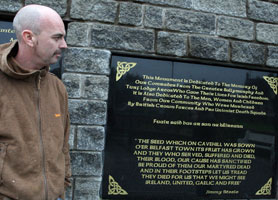 "ON both sides of every conflict there are brave people," said Sinn Féin President Gerry Adams in June 2001 at the unveiling of a mural in memory of Volunteers Jim Bryson and Patrick Mulvenna. "In this conflict, the bravest are on our side and the bravest of the brave are from Ballymurphy."
Now, seven years later, as part of Ballymurphy's Remember Our Volunteers project, a series of events is being organised in memory of Volunteers Bryson and Mulvenna.
Central to these events is the unveiling of a plaque on 20 September, close to the spot in Ballymurphy where the pair were gunned down by the British Army.
Later that evening, at a commemoration function in the Whiterock Leisure Centre, a DVD - containing interviews with the men's families and detailing their exploits as IRA Volunteers - will be broadcast.
Volunteers Jim Bryson and Patrick Mulvenna were ambushed by the British Army as they drove through Ballymurphy on 31 August 1973. Mulvenna died instantly while his friend and comrade Jim Bryson succumbed to his wounds three weeks later, dying on 22 September.
The men were feared by the British Army because of their courage and military prowess and it was no surprise that the British Army decided to summarily execute them.
Picking up on the British Army's fear of the IRA in Ballymurphy, Sinn Féin's Gerry Kelly, Patrick Mulvenna's cousin, said at the time of the mural unveiling in 2001 that Jim and Patrick were "leaders of the struggle who led with courage and imagination".
PRIDE
Speaking to An Phoblacht this week, Michael Russell of the Remember Our Volunteers Committee outlined the thinking behind the project:
"We in the Ballymurphy area have an immense sense of pride in our area and in the people - our friends, neighbours and comrades - who gave their lives in the cause of Irish freedom.
"In that sense our objective is to preserve their memory, celebrate their lives and create a deeper understanding of the cause for which they died and for which we still struggle.
"We have a five-year plan for this project and our intention is to broaden it out so that we produce historical and social documents that we can use as eductional tools for young people in particular that will allow them to understand the context in which the war was fought."
The plaque in memory of Volunteers Mulvenna and Bryson will be unveiled at 4pm on Saturday, 20 September, and the function including the DVD showing will start at 7.30pm in the Whiterock Leisure Centre.