11 September 2008 Edition
HOUSING: AccomModation problems North and South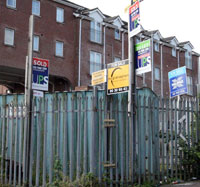 Opening the door to new housing options
WITH economic downturns affecting the housing markets across the country, An Phoblacht writers look at the causes, the consequences and the possible solutions for meeting families' needs to have a home 
WITH new home completions in the 26 Counties estimated to fall below 50,000 for the year, unemployment rising, mortgage interest rates increasing, thousands of homes unsold as prices fall, but still 45,000 people on housing waiting lists, something is seriously wrong in the Irish economy.
What are the choices open to the Government to tackle the housing problem in the 26 Counties today? ROBBIE SMYTH looks at some of the more imaginative options open to the two Brians as they bring forward the 2009 Budget.
How did it get this bad?
There are at least four important lessons from the string of economic crises that have gripped the global economy and that are now pushing the Irish economy into its first recession in over 20 years.
First, effective financial regulation is a must, not just in Ireland but internationally. Lax lending in the US and Britain, uncontrolled hedge funds and dubious speculation were core triggers of the current downturn.
Second, the case for government intervention in the economy has never been clearer. From the nationalisation of Northern Rock in Britain, the bailing out last March of Bear Stearns by the US Federal Reserve and resulting fire sale to JP Morgan in New York, to the decision this week by the US Government to nationalise Fannie Mae and Freddie Mac (two mortgage companies with $1.6 trillion of debt between them) - all of this shows that when the chips are down, the Government and the taxpayer carry the costs. So surely there should be a more dynamic role for government in the economy during the boom years, not just the gloom periods.
Third, listen to the experts, the nay-sayers... and Sinn Féin. The over-dependence on construction and homebuilding in particular in the Irish housing market was a massive mistake. And the knock-on spiral of redundancies, falling house prices, negative equity, and even more job losses in the building supply sectors - from furniture to electrical goods retailers - is reeking havoc in the economy.
Fourth, in every decade since the birth of the 26 County state, successive Dublin Governments have tried and failed to solve the housing problem in Ireland. There have been massive building programmes that have shaped the inner cities and suburbs of Ireland but there have been many failures. The ones most repeated are too few houses for the people who cannot afford them and too small or low-quality dwellings for many others.

Legacy of policy failures
When you add in the huge estates built in nearly every decade from the 1920s to 1990s, there are further problems of lack of resources and infrastructure, like transport, schools, medical services and retail shopping centres.
The quick-fix solution of high-rises became a nightmare. The tax-incentive building of the 1980s and 1990s provided thousands of homes but the vast majority were too small, were not sound-proofed, had no gardens or common spaces, and have possibly filled our cities and suburbs with the next generation of ghettoes. Now a decade of speculative 'borrow, build and sell quick' growth has turned into a train wreck, with unsold homes, unfinished estates and builders going bankrupt.


THE OPTIONS
(1) Getting the most
out of the one-off housing market
There might have been a collapse in the estate and apartment building sector but it is estimated that between 30 per cent and 35 per cent of the 50,000 homes being built this year are one-off houses. The key here is getting planning permission, which is much easier for developers than potential buyers.
Councils could use existing land banks, particularly those available under Section 5 of the 2000 Planning Act, which was aimed at reserving development land for social housing. By allowing the one-off building of small dwellings with the offer of a free site, thousands of families could get to self-build, hiring contractors while building quality homes and lowering unemployment or preventing further redundancies.

(2) What about the unsold homes?
Conservative economist Colm McCarthy gripped RTÉ Radio's Morning Ireland listeners last week with his blunt assessment that "we have built far too many residential units in Ireland" and that "excessive worrying about first-time buyers helped to get us into this mess in the first place". Well, why can't we take advantage of the unsold stock?
There is an avenue for the Government or indeed local authorities to use falling house prices to purchase units and then let them at affordable rates.
TV news bulletins were dominated last weekend with the problems of Galway contractors who cannot either sell homes or finish estates. Select market entry by Government could buy the houses, finish estates and cut housing waiting lists - and bring a significant number of construction workers back to work.

(3) Government loans and tax cuts
Tax incentives for developers have met with mixed results when it comes to housing. The Goodbody Economic Consultants' review of tax incentives in 2006 posed the dilemma that the years of developer-focused tax breaks may have created future ghettoes.
However, this does not rule out a temporary tax break for home-buyers. They could take a tax holiday for two or three years on stamp duty, with the money redeemed if the house is sold on. Such a scheme would need to be closely monitored to ensure that developers and auctioneers were not just pocketing the incentive but it could kick-start elements of the housing market. Such a measure is being tried out in Britain, where stamp duty has been cut on houses costing less than £175,000.

(4) A State Housing Agency
We need to decide who is responsible for housing policy and any market-based interventions. How would these be co-ordinated? And you would have to be very suspicious about quick fixes as, in Ireland, we certainly do quangos - and, when in doubt, big, unaccountable, centralised ones.
So we need to think about a way to allow local autonomy and national consistency in housing policy. Maybe the social partners could take a day out of their current deliberations to focus on this, as with IBEC, ISME, the SFA and ICTU at the one table with government we have all the vested interests in the property sector there, except the buyers.
In this recession there is an ever-growing list of people looking for government hand-outs, beginning with the highly profitable banking sector and the Construction Industry Federation. We need to scratch any notions of government giveaways and only spend money where there has been some objective measure of real value.


(5) Reform the rental market
Two key issues here: rent control and longer leases. Much of the unsold housing stock occurred because houses were built on the premise that nearly four out of every ten would be bought to be let, with rent rising as house prices did. Many people were financing these purchases through loans. As interest rates rose and house prices fell, the market has collapsed, but renting unsold housing stock could work in the long-term if the tenant is properly protected.
Rent control links the rent paid to the year the house was bought or refurbished, so over time your rent would not rise and everyone makes a little money - unlike the present scenario where landlords can cream it, buying a house in one year but linking rents to the current house price rate and continually jacking up the price.
All of these solutions are based on the Government taking a more proactive role in the economy, not just when things are going wrong. As Finance Minister Brian Lenihan ponders his budget calculations, maybe he should give some time to figuring out where it all went wrong.
Privatisation not the solution to housing crisis

BY EMMA CLANCY


HOME ownership in the Six Counties has moved far beyond the reach of vast numbers of people as a result of a two-year period of huge rises in house prices, fuelled by property speculators. Since autumn last year the housing market has slowed to a halt, with house transactions falling more than 50 per cent.
The current housing slump has prompted the British Government to announce a stamp duty 'holiday' on houses less than £175,000 in Britain and the North of Ireland, and it is predicted that house prices will fall in the immediate future. But the massive rise in the cost of living - without any such corresponding rise in wages - means young people and first-time buyers will still be priced way out of the market.
Speaking to An Phoblacht this week, Sinn Féin housing spokesperson and West Belfast MLA Fra McCann said: "While the business pages of the papers fret that property speculators may no longer enjoy massive profits from high sales, we're more concerned about the human impact of the burst bubble: from the construction workers being laid off to the young people forced to rent in the unregulated and exploitative private sector to the families faced with mortgage repossessions."

Mortgage defaults
The average household in the North is now spending 24 per cent of its income on monthly mortgage repayments, up from 15 per cent in 2002. The falling house prices mean that many people who bought houses just a couple of years ago are now, or may soon be, facing negative equity, where they are stuck with mortgages greater than the value of their homes.
The Housing Executive's  most recent figures show a sharp rise in the number of actions for mortgage repossessions over the past year: up 59 per cent. Between January and March this year, 754 households were hit by repossession orders, with 500 more hit in the second quarter. But house prices are only beginning their fall - increasing rates of negative equity and rising living costs mean this could spiral out of control.
McCann said: "Urgent steps are required to provide assistance to people struggling to pay their mortgages now and in the future.
"We were promised a mortgage rescue scheme by social development minister Margaret Ritchie, but still nothing has been produced."

Shared equity schemes
The Department of Social Development launched a shared equity scheme in Portadown on 5 September for 20 homes, where the buyer can purchase 50 per cent of the house, a private developer purchases 25 per cent and a housing association buys the remaining 25 per cent. The DSD website notes cheerily, "The added kick-back, there is no cost to the public purse".
But while shared equity schemes with registered housing associations are a positive option to be explored to help people escape from the rent trap, the inclusion of a commercial mortgage and private developer in the deal puts the homebuyer at risk.
"Sinn Féin welcomes steps that make home ownership possible, but despite the fanfare this latest project is another indication of Margaret Ritchie's eagerness to try to solve aspects of the housing crisis through privatisation," said McCann.
"The problem of home ownership being out of reach for thousands of people, and the further thousands facing possible default on their mortgage repayments, needs a serious, comprehensive strategy from the DSD of assistance independent of the profit-driven private sector."

Social housing
While the ups and downs of the housing market are big news, there are more serious problems  beneath the surface. There are tens of thousands of people in the North who are suffering from housing stress or homelessness because of the acute lack of social housing.
Almost 5,000 households presented as homeless to the Housing Executive in the first quarter of this year. There are now 40,000 people on the social housing waiting list, more than half of whom are listed as being in 'housing stress'.
Fra McCann said that the scale of the crisis was growing in the absence of resolute action from the DSD. "The solution seems obvious: build more houses," he said.
The DSD aims for 1,500 new social housing units to be built this year, and Fra McCann has called on Ritchie to reveal if this target is on course.
"The DSD has more than £1 billion worth of land at its disposal, which should be on the agenda for discussion with the construction industry to barter land for the building of social and affordable housing," said McCann.
He pointed out that potentially double the number of families could be granted housing if the DSD prioritised building new houses over purchasing existing housing, which is far more expensive.

Landlords cash in
The shortage of hostels and social housing forces thousands of people on the waiting list into the exploitative, high-cost private rental sector - a rent poverty trap. In addition, the thousands of people who have been driven out of the housing market are now also dependent on the private sector: investors have cashed in on the two key aspects of the housing crisis, with professional landlords buying up property traditionally bought by families to let it out.
Rising demand in the private sector has prompted rent to rise over the past year and it is predicted to rise significantly over the next two years. Predatory private investors in the North have been deliberately targeting repossessed homes to buy, refurbish and sell at a profit.
McCann said, "Renting private accommodation is an expensive, disruptive and often highly stressful way to live. As well as lacking the rights and security of tenure of the regulated social housing sector, private tenants are faced with rent that is often unreasonably high and if they are on Housing Benefit, they have to deal with the shortfall between their benefit and the rent charged by the landlord."

Regulate private sector
"The housing crisis is complex and multi-faceted," McCann said. "It's obviously partly influenced by factors beyond our control."
He continued: "But it's a crisis we absolutely must take control of. Housing is a basic right. There is a strong relationship between housing and poverty, employment opportunities, health and social inclusion. People's lives are basically being ruined by the financial stress of the private rented sector.
"Home ownership and full provision of high-quality social housing are the ideal housing options because they provide affordability and security of tenure. The social development minister has the power to take significant steps towards making these realistic options for people, but the necessary strategy, resolve and action have just not been forthcoming.
"Sinn Féin wants to play a positive role by pointing out what we believe are the causes of the crisis and proposing effective solutions," he said.
"But if the private rental sector is to play a significant role in meeting the housing needs of our communities, then it must be regulated to protect the rights of tenants. Sinn Féin has repeatedly proposed the mandatory regulation of private landlords. We also propose that private rent charges be regulated by the Housing Executive to prevent exploitation.
"Through a strong intervention consisting of targeted assistance and public spending, the urgent provision of more social housing units, and measures regulating the private sector, we can ensure housing access and increase affordability."