11 September 2008 Edition
Sinn Féin confident in Fermanagh by-election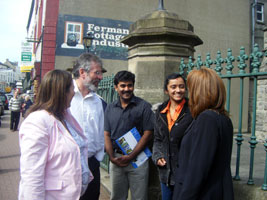 BY PEADAR WHELAN
SINN FÉIN believes it can capture a Fermanagh council seat from the DUP in next Thursday's by-election.
The party candidate in the Enniskillen ward election, Debbie Coyle, told An Phoblacht that "Sinn Féin is bringing a new dynamic to its constituency work in Enniskillen built on listening, working and delivering for the local community.
"On that basis we can take this from the unionists, so it is important we maximise the nationalist vote on election day, Thursday 17 September."
Next week's by-election came about as the result of the death of the sitting councillor, veteran DUP man Joe Dodds, the father of Economy Minister Nigel Dodds.
Infighting within the unionst camp, when the UUP blocked a DUP co-option, paved the way for the election.
under pressure
An under-pressure DUP selected Department of Enterprise, Trade and Industry Minister Arlene Foster as their candidate. The UUP selected the little-known Basil Johnston as their runner.
Foster's decision to run points towards the DUP's desperation in the face of the Sinn Féin challenge and the party's lack of a credible candidate in the ward.
Ironically it was Foster who, as Environment Minister, vowed to bring forward legislation barring representatives from seeking election to more than one electoral body.
Speaking during her canvass with the Sinn Féin President Gerry Adams last Monday, 8 September, Ms Coyle told An Phoblacht, "There are a number of issues, such as rural planning, which are affecting the people of Enniskillen, Tempo and Lisbellaw.
"Sinn Féin is addressing thse in the council and Stormont.
"My priority will be to address issues around housing and urban renewal, youth provision, anti-social behaviour, parking and traffic congestion, care for the elderly and the lack of services at the new Erne Hospital.
"Sinn Féin is also prioritising jobs, the economy and training."