11 September 2008 Edition
'Mickey Bo' murder trial begins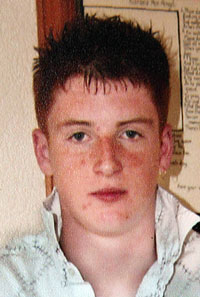 BY PEADAR WHELAN
THE TRIAL of five men charged with the murder of 15-year-old Ballymena Catholic Michael McIlveen began in Coleraine High Court on Monday, 8 September.
The men accused of the teen's murder in Ballymena in May 2006 are Jeff Lewis (19), Mervyn Moon (20), Christopher Kerr (22), Aaron Wallace (20) and Christopher McLeister (18).
A sixth person, a 17-year-old youth, is also charged with murder but cannot be identified for legal reasons.
Also in the dock was 18-year-old Paul Henson, who appeared on the lesser charges of causing affray and criminal damage.
Michael McIlveen, also known as 'Mickey Bo', was set upon by a loyalist mob on Friday, 5 May 2006, as he returned home from a pizza parlour in Ballymena, County Antrim.
The loyalists chased the teenager and cornered him in an alleyway at Garfield Place, where they beat him about the head and body, leaving him seriously injured.
He died in hospital less than two days later.
SECTARIAN
In the aftermath of the teenager's killing, Sinn Féin's Philip McGuigan criticised the DUP who, he claimed, tried to deflect from the seriousness of the attack by calling on people "not to jump to conclusions" by describing the attack as sectarian.
Mickey Bo's killing brought the focus to bear on the sectarianism that pervades towns like Ballymena, particularly those with councils dominated by the DUP.
This sectarianism was highlighted by remarks made by the DUP's council leader, Roy Gillespie, who maintained that McIlveen, as a Catholic, would not go to heaven.
"The Pope is the Anti-Christ and is the head of the Catholic Church which is not a true church or faith. If Catholics did not repent before they died they would not get into heaven," stated Gillespie.