10 July 2008 Edition
Fifth Column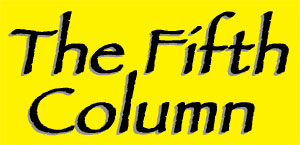 The Queen's Own Orangemen
UDR and RIR SOLDIERS have formed their very new Orange Lodge so they can at last come out in their finest Orange colours from behind all that British Army camouflage. Garryowen LOL will be stepping out this weekend on The Twelfth.
What will be on the banner they are stepping out under is a moot point. One hopes Garryowen LOL doesn't have any reference to Harris Boyle and Wesley Somerville, who were killed by their own bomb during the UVF massacre of the Miami Showband on a roadside in Armagh in 1975. While Boyle and Somerville were officers in the UVF, they were also serving soldiers in the UDR. The UVF magazine, Combat, printed memoriam notices for them from UDR troops based in Dungannon, Portadown and Lurgan, lest we forget.


Enter the dragon
ORANGEMEN at Tandragee are going to be joined by a Chinese festival dragon on Eleventh Night in an unusual effort to make The Twelfth more inclusive in County Armagh. Reverend Stephen Dickinson, though, finds it "offensive" (isn't he a Christian?).
The outraged rev rails:
"I wish to stress that, whilst acknowledging that the Chinese community have every right to follow their own religious beliefs and practices, I believe it is fundamentally wrong for those beliefs to have any place or part in our Twelfth celebrations."
An official spokesperson for Tandragee Orangemen has defended the dragon dance, saying the Order is trying to "embrace all aspects of local life" in the week-long festival leading up to the Twelfth.
Whatever next? Gays and Catholics?


French general leads British Army
THE chief of staff of the French Army has quit after a soldier fired lived ammunition instead of blanks during a simulated attack at a military show, leaving 17 people with injuries. Not dead; not fatally wounded – injured.
General Bruno Cuche took responsibility despite not even being the culprit's immediate superior on the ground.
How many British officers – people like the mercenary Tim Spicer and Parachute Regiment commanders on Bloody Sunday – have shown similar leadership? In round figures: 0.


Mann down
SIMON MANN the Mercenary Man – and once Sir Mark Thatcher's man – has just been sent down. He's been sentenced to 34 years in jail in a failed plot to overthrow the government of oil-rich Equatorial Guinea in Africa.
Mark Thatcher claims that he unwittingly part-funded the coup operation, which isn't a bad defence for the witless son of the British former prime minister. Ex-SAS man Simon Mann says he isn't that dense and he was a willing accomplice.
After Simon Mann's sentence was handed down on Monday, Margaret Thatcher's son fled his guarded bolthole in a luxury villa in the south of Spain, most certainly not to visit his old chum but maybe to dodge an international arrest warrant?
We live in hope.


We are sailing
BUOYED by the Lisbon campaign and with the winds of victory behind its sails, Sinn Féin last week scooped a raft of awards in a yacht race from the USA to the West Indies.
Unfortunately for old sea dogs Martin Ferris and Arthur Morgan, they weren't the skippers of  the Cal 40 sailboat, Sinn Féin, as it scooped nine awards in the race from Newport, USA, to the sunny West Indies. That honour goes to Peter Rebovich Sr, who steered Sinn Féin to success in one of the world's premier sailing events, drawing top sailors and first class equipment.
But there could be a political storm brewing on the horizon.
The Fifth Column has learned that nautical 'senior Sinn Féin figures' are questioning if this is an appropriate use of the Sinn Féin name. Citing important matters of political protocol that should be addressed with the utmost urgency, Martin Ferris and Arthur Morgan have selflessly volunteered to go to sun-kissed Bermuda to look into it. They've asked Sinn Féin's International Department to book an open-ticket, expenses-paid trip with flights, hotel (with mini-bar and sauna), deep-sea diving and limbo dancing classes so they can conduct a thorough investigation.  Their report would be back in six weeks – they might not.