10 July 2008 Edition
Upsurge in loyalist attacks as Twelfth nears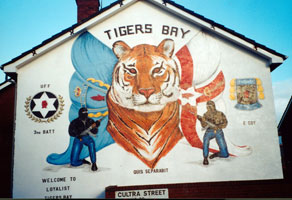 A NORTH BELFAST Catholic had a lucky escape after he was confronted by a loyalist gunman as he reported for work on Sunday afternoon.
The man, who does not wish to be identified, was going to work in Belfast City Council's Cleansing Depot in Duncrue Street when his assailant struck.
The gunman, drsssed in military fatigues, jumped from a car and put a gun to the man's head and tried twice to fire the weapon.
The Catholic man ran off as the loyalist jumped back into the car and drove off.
Speaking to Sinn Féin's Danny Lavery, An Phoblacht has learned that this gun attack is only one of a series of sectarian attacks carried out by loyalists in the past week.  Lavery said:
"Since the end of June and the build-up to The Twelfth, loyalists have been responsible for at least six sectarian attacks in north Belfast.
"In one instance a young man was stabbed at the Tiger's Bay interface, while two young men leaving a fast-food outlet on Brougham Street were set upon by a gang, also from Tiger's Bay."
The Sinn Féin man went on to warn nationalists from across north Belfast to be vigilant as loyalists had targeted people and homes in the Whitewell area, in Mountainview near Ardoyne, and doused cars with brake fluid on Henderson Avenue, off the Old Cavehill Road.
"The widespread nature of these attacks mean that loyalist elements across the north of the city are active so I would call on people to be very careful over the next week or so, especially over the Twelfth period."
CAMPAIGN FOR CALM
Meanwhile, Sinn Féin Junior Minister Gerry Kelly who, along with his DUP counterpart Jeffrey Donaldson launched a poster campaign calling for calm across north Belfast's interfaces, said of the attacks:
"There are still people out there who can't leave sectarianism behind them despite the fact that all six north Belfast Assembly members recently made a call for a peaceful summer."