26 June 2008 Edition
Workers' concerns central to Lisbon rejection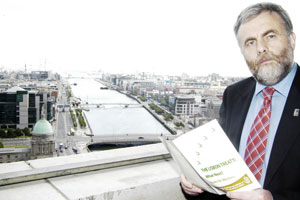 BY CAOILFHIONN
Ní DHONNABHÁIN
THE failure to address workers' concerns was a key reason why voters rejected the Lisbon Treaty, according to Jack O'Connor, General President of SIPTU, Ireland's biggest trade union.
O'Connor was speaking this week at the launch of a booklet entitled The Lisbon Treaty: What Next?, which is to be circulated amongst SIPTU's 270,000 members.
Prior to the 12 June vote in the Lisbon referendum, SIPTU's Executive Council said it could not support the Lisbon Treaty unless the Government committed to introducing legislation to protect the right to collective bargaining. The Government refused to make such a commitment.
According to Jack O'Connor:
"The right to collective bargaining is enshrined in Article 28 of the Charter of Fundamental Rights and applies in virtually every other EU member state in one form or another. The Government's refusal to make a commitment that this Article 28 would be implemented sent out a strong signal that it would give priority to the big business agenda after a 'Yes' vote on Lisbon, just as it did after the 'Yes' vote on Nice.
"Workers' concerns about deteriorating security and quality of employment were manifestly evident in the Lisbon vote."
O'Connor pointed to the impact of the recent European Court of Justice (ECJ) rulings in the Laval and Viking cases.
The SIPTU leader was keen to dismiss claims of the extent to which business concerns such as the issue of corporation tax affected the decision of ordinary voters in the referendum.
Flanked by a Polish and a Lithuanian organiser, O'Connor also rejected suggestions that anti-immigrant sentiments were influential in the vote.
SIPTU is now demanding action on a set of issues that it believes were crucial in the decision of voters to reject the Lisbon Treaty. Primarily it is looking for legislative protection for the right to collective bargaining and for workers to be protected from discrimination for involvement in trade union activities.
SIPTU is demanding the immediate introduction of the long-overdue Employment Law Compliance Bill, for the issue of agency workers to be dealt with, and for the observance of workers' rights to be central to public procurement rules.
Importantly, SIPTU is calling for the introduction of a 'Social Progress Clause' at EU level to deal with the fall-out from the recent European Court of Justice judgments. Such a clause has been proposed by the European Trade Union Confederation and was included in Sinn Féin's submission to the Irish Government regarding issues that need to be dealt with in renegotiating the Lisbon Treaty.