26 June 2008 Edition
BALLYMURPHY MASSACRE : Relatives call for action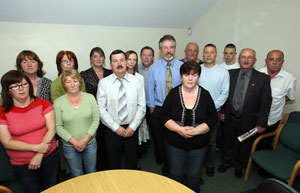 Many unanswered questions, says Irish Government
IN THE three days following the introduction of internment without trial by the Stormont regime on 9 August 1971, 11 people – ten men, including a local priest, and a mother of eight children  – were shot dead by the British Army Parachute Regiment in the Ballymurphy area of west Belfast.
The killings left 46 children without a parent. Many of these children were evacuated to the 26 Counties, mostly to military camps as refugees – some of the children watched the funerals of their parents on news footage broadcast by RTÉ – others were too young to comprehend the enormity of what occurred.
At the time of the slaughter many nationalists saw the British Army's actions as part of a deliberate tactical decision designed to intimidate the Ballymurphy and wider nationalist community by deliberately targeting nationalist civilians.
Sections of the media were complicit in carrying news reports labelling those killed as "gunmen and gunwomen".
None of the dead was involved with any armed group. They were all unarmed civilians. The barbarity of the killings was lost in part in the wider reporting of internment and covered up by the British Army and British Government through careful news management and a failure to hold proper investigations.
The result was that those horrific 72 hours in Ballymurphy became a forgotten massacre. Now, as adults, the children and the surviving siblings of those killed want the names of their loved ones cleared.
Those killed in the Ballymurphy massacre were: Fr Hugh Mullan (38); Frank Quinn (19), a father of two; Joan Connolly (50), a mother of eight; Daniel Teggert (44); a father of 13; Joseph Murphy (41), a father of 12; Noel Phillips (18); Eddie Doherty (28), a father of four; John Laverty (20); Joseph Corr (43), a father of six; John McKerr (49), a father of two; and Paddy McCarthy (44).
THE Irish Government has said there are still many unanswered questions in relation to the circumstances surrounding 'The Ballymurphy Massacre', when 11 people were gunned down by the British Army's Parachute Regiment in Belfast in August 1971, after the introduction of internment. Relatives want the Irish Government to put their case directly to British Prime Minister Gordon Brown.
The statement from Foreign Affairs Minister Mícheál Martin came after Sinn Féin TD Caoimhghín Ó Caoláin asked him if he had raised the case with the British Government.
Martin noted that the families of the Ballymurphy 11 have met the Consultative Group on the Past, which was established in June 2007, under the joint chairmanship of Archbishop Robin Eames and Denis Bradley, on several occasions.
The Irish Government minister added:
"My department was represented at an event in Dublin on 30 April last intended to raise awareness of the killings of these 11 people at the start of a period of the worst violence of the Troubles, following the introduction of internment on 9 August 1971.
"There are still many unanswered questions in relation to the circumstances surrounding these tragic killings.
"My department is in regular and ongoing contact with Relatives for Justice, a group which represents the Ballymurphy families, and has, over the years, supported Relatives for Justice in their work, including through provision of assistance by the Reconciliation Fund."
The daughter of one of the victims killed by the Paras in Ballymurphy welcomed the interest and support shown by the Irish Government and from public representatives from across the spectrum, including Deputy Ó Caoláin.
Briege Voyle, daughter of Joan Connolly, said that credit is due to all of the families' hard work in raising the case:
"While his response is positive, what Minister Martin must realise is that the Irish Government must now take the matter further. It is not enough to depend on the Consultative Group on the Past to put all of this in the mix.
"The killing of my mother along with the other 10 victims in Ballymurphy – and indeed all victims of state violence  – must be taken as an indication of the depth of measures which need to be addressed in the overall strategic approach. These require particular approaches of redress.
"However, these killings must be put directly to the highest levels of the British Government by the highest levels of the Irish Government.
"Bloody Sunday only happened because the British Government allowed the murders of our 11 relatives five months earlier to be carried out, excused and covered up. The British Government cannot abdicate the implications of the impunity which surrounded their soldiers.
"We plan to meet with Minister Martin to raise these very points with him before the Consultative Group delivers their report."
Meanwhile, West Belfast MP Gerry Adams has called for an international investigation to discover the truth about the circumstances surrounding the massacre of their loved ones.
"All of these families deserve the full support and encouragement of the community, and of the Irish Government, in their efforts to secure an independent international investigation into these deaths and to have the British Government acknowledge the truth surrounding the shooting dead of their loved ones.
"Sinn Féin fully supports the Ballymurphy families. They deserve public acknowledgment of the terrible events that took so many lives and traumatised so many others.
"Their demand for an independent international investigation into all of the circumstances is entirely justified.
"And the British Government must publicly acknowledge the innocence of the 11 people killed and make a public apology to their families and community for the actions of its armed forces in killing and then covering up the killing of our neighbours.
"This is the context in which we come to the issue of truth and of truth processes."