26 June 2008 Edition
Derry murder condemned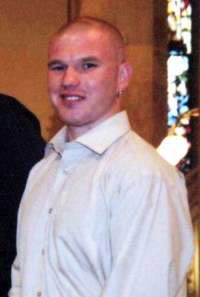 Up to 1,000 people held a vigil on Tuesday in memory of a 22-year-old man shot dead in Derry's Creggan area. Among those who attended the vigil, near the scene of the shooting, were Deputy First Minister Martin McGuinness of Sinn Féin.
Emmett Shiels from Tyrconnell Street in the Bogside was driving a pizza delivery van before he was shot in the Bligh's Lane area.
Foyle Sinn Féin MLA Raymond McCartney condemned the  fatal shooting.
He said:
"First and foremost, my thoughts and condolences go to the family and friends of this young man.
"This shooting has to be condemned and there can be absolutely no justification for this type of action.
"Whoever was responsible needs to own up and give a clear explanation for their actions.
"The people who carried out this murder, no matter what flag of convenience they stand under are the enemies of the people of Derry.  They have no political mandate, no political strategy, nor no community support and have only brought hardship to our communities.
 "Not only has one young man lost his life but four or five others involved are facing lengthy prison sentences believing they were striking a blow for Irish freedom.  The very same community they claim to have gone out to protect has now taken to the streets to show its disgust and revulsion at their actions and demand that they go away.
 "The people who purport to represent the armed groups involved in these type of actions must now state clearly where they stand on this issue, will they continue to support these groups or will they join with the community they come from and help bring an end to all armed groups.
"We are in a new era, we are creating a new society for the younger generation and there can be no place for this type of activity.
"Anybody with information about this killing should also give it to the PSNI. This was a criminal act and anyone who attempts to attach any kind of political justification to it is deluding themselves and our community."
In a statement Emmett Shiels's family said that while they were  in deep sorrow over the loss of their son, they were heartened by the great support of friends and neighbours.  
"The sad reality is that this death should not have occurred. This was not a case of mistaken identity but a deliberate act and we are calling on anyone with any information to bring it forward so that those who carried this out this murder are held responsible."
The family called a press conference on Wednesday to call for information about the  murder. It was attended by representatives of Sinn Féin, the SDLP and the PSNI.