1 May 2008 Edition
Larry Ginnell TD honoured in Westmeath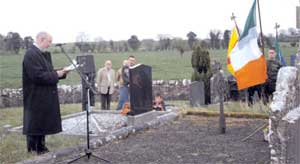 REPUBLICANS gathered at a quiet cemetery in the midst of rural Westmeath on 25 April to remember a largely forgotten Sinn Féin elected representative who played a very significant role in Irish agrarian and political struggles at the start of the last century. Larry Ginnell was honoured at his graveside in Delvin where Councillor Paul Hogan, Sinn Féin Mayor of Athlone, chaired the ceremony and introduced the main speaker Sinn Féin Dáil leader Caoimhghín Ó Caoláin TD.
Caoimhghín outlined Larry Ginnell's years of activism from his involvement in the Land War in the 1880s, election to Westminster as an Independent MP for North Westmeath in 1906, his leadership of campaigns against cattle ranches in the Midlands, his protests against the executions of the 1916 leaders, and his withdrawal from Westminster in 1917.
Ginnell became National Treasurer of Sinn Féin in 1917 and was returned for North Westmeath in the 1918 General Election. He was Director of Propaganda in the First Dáil Éireann, was imprisoned during the Tan War and served as an envoy of the Irish Republic in the US and South America. He opposed the Treaty. By now an elderly man, he died in 1923, worn out by untiring work and the effects of imprisonment.
Pointing out that republicans are continuing the work of Ginnell and his comrades, Ó Caoláin spoke of the current political situation:
"Now with an economic slowdown we are seeing the old pattern emerging. Those who can least afford it are being made to suffer. Health cuts are being imposed. Schools are running out of funding. Well, we have a message for the outgoing Taoiseach and the incoming Taoiseach: cuts in public services will be resisted; workers will demand decent wages; when job losses come, as they have in large numbers here in the Midlands recently, people will demand new employment opportunities, improved training and better support for the local economy; farming families will stand up for their way of life and for the proper development of our agricultural industry, as Larry Ginnell did in his time.
"And in all of these struggles Sinn Féin will be campaigning side by side with communities."
EXPELLED FROM LEINSTER HOUSE
Before concluding, Ó Caoláin referred to a final episode in Ginnell's life:
"The Free State parliament elected in 1922 first assembled on 9 September that year. Larry Ginnell was the only republican to attend. He refused to take the Oath of Allegiance to the British monarch but he demanded to be given his place. And he also asked if TDs from the Six Counties would be allowed to participate. The answer he received was that he himself was expelled from the parliament and escorted from the precincts of Leinster House.
"Larry Ginnell was thus the last Sinn Féin TD in Leinster House before I had the honour to be elected to represent Sinn Féin and the people of Cavan and Monaghan in 1997.
"We will honour Larry Ginnell's memory in the most fitting manner of all when we see Teachtaí Dála from all 32 Counties assembling to legislate for an all-Ireland Republic, for a united people and country. And I hope that among them will be a Sinn Féin Teachta Dála representing the people of Westmeath and Longford."