1 May 2008 Edition
Defend Workers' Rights - Vote No to Lisbon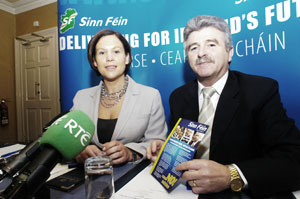 SINN FÉIN Dublin MEP Mary Lou McDonald and the party's Workers' Rights Spokesperson Arthur Morgan TD launched the party's 'Defend Workers' Rights – Vote 'No' to Lisbon' national leafleting campaign, in advance of this week's May Day celebrations, in Dublin on Wednesday, 30 April.
Speaking at the event Mary Lou McDonald said:
"Sinn Féin has consistently supported EU measures which have advanced workers' rights, and we will continue to do so into the future. However recent EU institutional developments in the area of workers rights are driving down pay and conditions throughout Europe, particularly for those on lower incomes.
"The Services Directive, recent rulings by European Court of Justice, failure by European leaders to agree an Agency Workers Directive ensuring equal pay for equal work, and a recent EU green paper on 'flexicurity' which seeks to dilute existing protections for workers are fundamentally undermining the European Social Model. In a time of economic uncertainty throughout Europe and the world this is a reckless move.
"The Lisbon Treaty will put a new emphasis on this direction as it completes the internal market in services as envisaged by the widely opposed Services Directive. In tandem it opens up key public services such as education and health to privatisation and could reduce a states ability to provide state aid. Public funding, environmental and workers' rights regulations could all be deemed distortions of the market. This Treaty is a bad deal, workers throughout Europe deserve better."