1 May 2008 Edition
Ballymurphy massacre families meet TDs and senators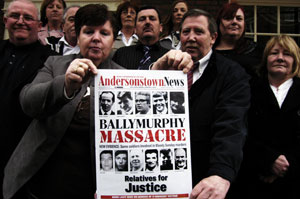 FAMILIES affected by killings by the British Army's Parachute Regiment in Belfast's Ballymurphy neighbourhood in 1971 met representatives of the various political parties at Leinster House in Dublin on Wednesday.
The paratroopers killed 11 people in Ballymurphy over a three-day period between 9 and 11 August 1971. The dead included a mother of eight and the parish priest. All were civilians without any connections to any armed group. However, the British labelled them 'gunmen' and 'gunwomen'. The barbarity of the killings was lost in the wider reporting of the introduction of internment without trial and for many years became a forgotten massacre.
The Paras went on to murder 14 more civilians in Derry the following January.
The children and the surviving siblings of those killed in Ballymurphy are working to clear the names of their loved ones. Following the Bloody Sunday Inquiry, and with separate investigative findings, they are confident that they can link members of the Parachute Regiment responsible for Bloody Sunday to the Ballymurphy murders.
As a direct consequence of the Ballymurphy massacre, 46 children were left without a parent. Many were evacuated across the border, mostly to camps run by the Defence Forces. Some of the children watched the funerals of their parents on news footage broadcast by RTÉ – others were too young to comprehend the enormity of what occurred. Their lives were irrevocably changed.
The families are seeking political support for a number of key aims which include:-
• An independent investigative process which will secure a statement of innocence regarding all of those killed;
• An apology from both the British Army's Parachute Regiment and the British Government.
Importantly, this is a process that has an emphasis on truth seeking, acknowledgement and recognition.