1 May 2008 Edition
British secretly blocked Finucane inquiry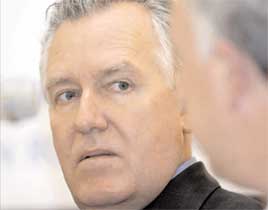 By Laura Friel

A SECRET decision by a British former Secretary of State to block the public inquiry into the killing of solicitor Pat Finucane in 1989 has been exposed. A decision to halt the proceedings was taken by Peter Hain in 2006 but the Finucane family was never informed.
Pat Finucane was shot 14 times in his north Belfast home on 12 February 1989. The attack was claimed by the Ulster Defence Association/Ulster Freedom Fighters.
An RUC Special Branch agent and UDA gunman, Ken Barrett, was sentenced to life imprisonment in 2004 for the murder. On his release last year, after serving nearly three years of a recommended 22-year sentence, Barrett was spirited out of Ireland to a safe haven by the British Ministry of Defence.
Another RUC agent, UDA quartermaster William Stobie was also implicated in the killing.
Peter Hain's decision to prevent the public inquiry came to light in early April after a letter from the NIO was sent to his widow, Geraldine Finucane.
The letter came from British Secretary of State Shaun Woodward's senior private secretary, Simon Marsh, and referred to an earlier decision to jettison the inquiry by Peter Hain. "We were not informed of this decision at the time," Geraldine Finucane said.
In fact the family only learnt of the decision after they contacted the NIO to request an update on the progress towards opening an inquiry.
According to the letter, Hain had decided: "It was no longer justifiable to continue to devote public money to preparations for an inquiry which the family would refuse to accept under the terms of the Inquiries Act."
But Hain's ruling had been kept a secret not only from the Finucane family but also Judge Cory, the Irish Government and the public at large.

It was Canadian Judge Peter Cory who had recommended an independent public inquiry into the Finucane murder. Cory had been tasked by the British Government to probe a number of controversial killings.
The judge had been appointed with the understanding that his decision would be accepted by the British Government as binding. The judge also understood that if he recommended an inquiry was to be both independent and public it would be just that.
Cory recommended an independent public inquiry in relation to a number of killings, including Pat Finucane in 2004. The British Government's immediate response to Cory's recommendation was to rush through legislation to impose restrictions.
By transferring control of the conduct of the inquiry into the hands of British ministers and allowing key witness evidence to be heard in secret, the Inquiries Act undermined both its independence and transparency.
Judge Cory and the Finucane family objected. Shamefully, Hain cites this objection as the reason behind his decision to block the inquiry.
Geraldine Finucane said:
"The letter stated that the decision was taken because my family refused to accept ministerial control of an inquiry under the notorious Inquiries Act 2005.
"They appear to be saying that unless we agree that British Government ministers should be allowed to control what information the inquiry is permitted to examine in public there will be no inquiry at all."
Despite the fact that the undertaking to abide by recommendations from Judge Cory had been accepted by the both the British and Irish governments at Weston Park, the Irish Government was never informed of Hain's decision to abandon the inquiry.
Following a meeting with the Finucane family in Dublin last Thursday, Taoiseach Bertie Ahern reiterated the Irish Government's support for an independent public inquiry into the killing of Pat Finucane.
"The Finucane family have travelled a long and difficult road in their search for the truth. I reiterate the Government's continuing support for a public inquiry into Pat's murder. That position has full all-party support in Dáil Éireann," Bertie Ahern said.
The Finucane family have asked the Taoiseach to raise the issue during his address to a joint session of the US Congress next Wednesday. Last year, Ahern made reference to the Finucane case and the issue of collusion during an address to the joint Houses of Commons and Lords at Westminster.
Evidence of British state collusion in the murder of a Belfast defence lawyer has not only commanded enduring public attention in Ireland but has also been the focus of widespread international concern.
In light of this, a decision by a British minister to secretly block the inquiry while maintaining the public perception that an inquiry into the killing of Pat Finucane would take place is more than disingenuous – it is downright deceitful.
Geraldine Finucane said:
"I have long doubted whether the British Government had any real intention of ever establishing a genuinely independent public inquiry into Pat's murder. This letter confirms my worst suspicions.
"They have misled my family, the Irish Government and they have misled the European Court of Human Rights."
A case cannot be taken to the European Court until all domestic avenues of redress have been sought and denied. By maintaining the appearance that an inquiry was in progress the British Government has stalled the involvement of the international courts.
Sinn Féin MLA Alex Maskey has accused the British Government of "continuing their policy of concealment and cover-up". He added:
"In the years since the murder of Pat Finucane, the British Government have consistently frustrated every effort to get to the truth. They have deliberately sought to cover up the role of British state agencies in this murder."