3 April 2008 Edition
Bill of Rights Forum presents its report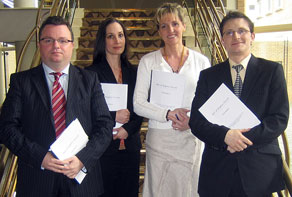 Civil Rights to Bill of Rights — 40 years of struggle
ALMOST exactly 40 years since the birth of the Civil Rights campaign, the long struggle for genuine equality in Ireland took a huge leap forward on Monday when the Bill of Rights Forum presented its long-awaited report.
The opulent surroundings of Belfast's Hilton Hotel  – where the report was officially unveiled – is probably as far removed from Burntollet beach or the narrow terraces of Derry as possible.
However, there was very little to differentiate between the aims of those who took to the streets in 1968 and the aims of those who gathered in the Hilton – or at least some of them.
Four decades on, they are still struggling for equality, for human rights and an end to poverty. 
One of those who personifies that continuity of struggle is Foyle Sinn Féin MLA Martina Anderson.
The party's Equality and Human Rights spokesperson has represented Sinn Féin on the Bill of Rights Forum for over a year.
It has been an often torturous and painfully slow process, and Anderson admits there were times when any form of agreement looked almost impossible.
Nevertheless, she was never in any doubt about the value of the Bill of Rights – a concept which she insists has the potential to be genuinely revolutionary.
"Yes, it has been a difficult process and there were times when it looked like we may not reach any kind of agreement at all," she said.
"But when you consider that all the North's main political parties as well as civic society were represented in the forum, it was always going to be challenging to reach consensus.
"A strong, enforceable Bill of Rights would compel the Government to provide the necessary resources and legislation to tackle issues such as homelessness and poverty.
"It would also compel the Government to provide an adequate standard of living for all, to ensure that all employers pay a fair wage, to give our pensioners the assistance and dignity they deserve, and to support families and carers in their day-to-day lives.
"These are just a few examples of the very real differences which a Bill of Rights can mean to the ordinary man and woman.
"All of these rights are included in the forum's report, and there are many more. It recognises the need to protect and support the Irish language, the needs of victims, ethnic minorities and other vulnerable groups.
"The report also enshrines the principle of equality – which is, of course, a priority for Sinn Féin.
"The party has already secured some of the most progressive equality legislation in Europe as part of the Good Friday Agreement. Recently, we built on that in the Assembly when we secured further equality-proofing measures which mean that all public spending will have to be used in such a way that it genuinely benefits those who need it most.
"A Bill of Rights will further reinforce that commitment to equality and this will make a very real and positive impact on people's lives.
"Of course, we didn't get everything we wanted; no one did. And we have particular concerns about the prospect of so-called 'national security' being used as a pretext to negate some of the rights. As republicans, are all too aware that 'national security' grounds have been used and abused in the past to justify and cover-up all manner of human rights abuses.
"Nevertheless, I am convinced that a strong Bill of Rights would provide a template to effect real change in Ireland and we have a responsibility to see the process through."


ALL-IRELAND DIMENSION
The Bill of Rights Forum was established to explore what rights are required in the North of Ireland in order to supplement existing human rights laws and with particular reference to the needs of a society emerging from conflict.
However, as Anderson stresses, there is also a very strong all-Ireland dimension:
"This Bill of Rights has very obvious implications for the development of the All-Ireland Charter of Rights.
"As part of the Good Friday Agreement, the 26-County Government committed to producing such a charter to supplement the 1937 Constitution, which clearly does not adequately reflect the reality of life in 21st Century Ireland.
"Republicans now need to create the demand for that commitment to be honoured and we need to be involved in shaping it from the very outset.
"Human Rights are relevant to everyone on this island. A hungry child is a hungry child, whether they live in Belfast or Ballymun, Dundalk or Derry. So in many ways the real work begins here.
"The forum report has now been submitted to the Human Rights Commission and they will examine our proposals before producing a final draft which will then be presented to the British Government on 10 December – International Human Rights Day.
"The British will then have responsibility for implementing it but we need to create the demand and pressure to ensure they produce the kind of bill which we all want to see.
"The same must happen with the 26-county administration in terms of the All-Ireland Charter.
"I strongly believe that this is an issue which can become a rallying point for republicans across Ireland. We have made some important advances but we now have an opportunity to revolutionise Irish society.
"Forty years ago, a generation of young Irish republicans and radicals began the campaign for Civil Rights.
"Now, a new generation of Irish republicans can bring that struggle to a successful conclusion and finally right the wrongs of the past."
What it will mean for you
AMONG the recommendations for the Bill of Rights are a number of measures which can make a genuine difference to the lives of the Irish people.
The bill will compel the state to take action – including new legislation – in order to turn these measures into a reality.
The recommendations include:–
• EDUCATION: The right to equal access to quality education at all levels and for all our children and young people.
• LIVING STANDARDS: The right to a decent standard of living, including adequate food, water, fuel and clothing.
• HEALTH: The right to the highest possible standard of health and social care.
• HOUSING: The right to a decent home that is safe and affordable.
• ENVIRONMENT: The right to a sustainable, healthy and safe environment.
• EMPLOYMENT: The right to work and to enjoy a fair wage and proper conditions.
• SOCIAL SECURITY: The right to adequate social security and pension.
• FAMILY LIFE: The right for parents, carers and legal guardians to enjoy the necessary support and resources to allow them to raise their children in a stable, safe and secure environment.
• LANGUAGE: The right to communicate and receive a response from all public authorities in Irish.
• EQUALITY: The right to be treated on an equal and fair basis.
• SAFETY: The right to live free from all forms of violence, maltreatment and abuse.