3 April 2008 Edition
O'Dowd slams SDLP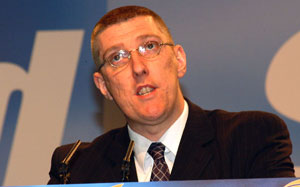 The SDLP leadership has been slammed this week by Sinn Féin's leader in the North's Assembly John O'Dowd over its voting position on issues such as the North's new Victims Commisioners.
O'Dowd said that when it was revealed recently by one of the  Victims Commissioners, Mike Nesbitt, on a TV show that new legislation was required to allow them to function fully, Margaret Ritchie, sitting beside Nesbitt vowed to move heaven and earth to ensure that the legislation was obtained speedily.
"However, when it comes to legislation, when it comes to a vote in the Assembly, where it matters, the SDLP voted against the necessary legislation and left Margaret Ritchie sitting on her own, to once again abstain on a bill she vowed to move heaven and earth to achieve. On the next stage of the Bill the SDLP abstained even though their party leader told the Assembly that his party sees no value in blocking the Bill", O'Dowd said.
"We witnessed a similar approach to the Budget, Programme for Government and Investment Strategy. The SDLP now tell us they did not support the recent RPA announcement though it appears the SDLP Minister did.
"On almost every issue the approach of the SDLP appears to be confused, obstructive and based on the lowest common denominator – negativity.
"Someone from within the SDLP needs to demonstrate at least some level of leadership because the current leadership is more like a rudderless ship lacking any direction and in danger of breaking up on the rocks of political reality", he said.