3 April 2008 Edition
Campaign for a Decent Public Health Service - Thousands march through Dublin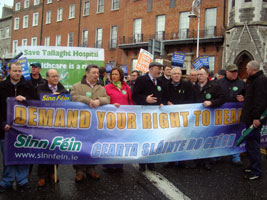 We're here because we care

By Ella O'Dwyer & Brendan Kerr

THE TORRENTIAL, frequent downpours and storm-force winds throughout the morning failed to deter several thousand protestors from all over Ireland marching through Dublin City centre last Saturday to demand "a decent public health service now!"

The march and rally was organised by the Dublin Council of Trade Unions and the Youth Committee of the Irish Congress of Trade Unions and backed by a host of trade unions; doctors, nurses and a wide range of healthcare workers; hospital campaign groups like Patients Together and the Monaghan Hospital Community Alliance; and political parties, Sinn Féin prominent among them.
The most striking presence, though, was that of individual people and families who clearly need a decent public health service now or have been let down by the existing health service. One of these was the husband of the late Susie Long, Conor McLiam, who walked alone at the head march, carrying a photograph of Susie.
Susie Long died last year of colon cancer after a nine-month wait for a colonoscopy. Right up to her death – most famously by going on air on the Joe Duffy RTÉ Radio show under a false name – she was a courageous voice, fighting for other people to have the healthcare she was denied.
Outside Leinster House, her husband delivered a powerful, emotional message to the crowd who had walked or 'wheelchaired' from Parnell Square, a message that Susie would have been proud of.
"Susie died because this government refused to fund a day-care unit for Kilkenny. She died because of a two-tier system where public patients face long waiting lists and private patients get quick access. This fact was covered up by lies and spin until Susie blew the lid on it.
"Six months after Susie's death they are trying to say that emergency cases are seen within five weeks. Then we hear the truth from public patients that they are waiting much longer. One of the hardest factors is that the Health Service Executive won't acknowledge that anything is wrong at all. It's like pulling teeth – the HSE is in denial.
"This government and the HSE are not focused on providing a patient-centred service. They are focused on auditing and profit making – giving away public land for profit."
Professor John Crown, the consultant oncologist who was controversially dropped from a health debate on the Late Late Show last November, gave a diagnosis no one could disagree with, not even Health Minister Mary Harney.
"The bad news is that we're all going to die; we're all going to get sick; we're all going to need the health service.
"Some people think they can avoid the problems in the public service by going into the private service, but some of the problems in the private system are worse than in the public service. Both services are suffering because they are two services. It's crazy. It is not only unfair and inequitable, it is insane."
Professor Crown went on to say that patients are living longer at a time when cancer and heart disease are not the death sentences they once were. He compared the two-tier health system in Ireland to apartheid in the old South Africa: "The left door/right door system of apartheid in the health service is not the way to do it." 
Peadar Mahon, of the Monaghan Hospital Community Alliance, said:
"I hope that 29 March 2008 will go down in history as a day when the patients of Ireland came together and said 'Enough is enough!'"
Dr Orla Hardiman, of the Doctors' Alliance for Better Healthcare, went on to speak of her commitment as a doctor to quality healthcare.
"I'm here because I represent the Doctors' Alliance and I'm here because we care – we care about having an excellent health service.
"We're allied with the people we look after; we're allied with the patients. We don't want a health service that is based on the ability to pay. We want a service that's available to people who need it, when they need it."
Louise O'Reilly, SIPTU National Nursing Official, said that, as a frontline worker in the health service, she and her co-workers have a vested interest in securing "a properly funded, decent health service".
"Today is a very important day," she said, "a day when health workers, unions and patients stand together and recognise that healthcare is the business of every person on this island.
"We will let this government know that we are prepared to defend the public health service. Nurses working on the frontline and, more importantly, every single person in this country has a vested interest in defending the Irish health service from privatisation.
"We will not stand idly by while our health service is attacked. Our health service is not for sale!"
Just the beginning
SPEAKING to An Phoblacht after the rally, chairperson Des Derwin of the Dublin Council of Trade Unions said that what was important was not the numbers but the wide spectrum of people involved, from all sectors and all over the country.
Asked if he thought that the health issue was one that extended across European borders, he agreed that people have been campaigning on the health issue in places like France and Germany.
"It's a bigger picture - and especially in relation to the Lisbon Treaty and the EU's commitment to 'liberalise trade services' – a commitment that would be reinforced by Lisbon, and lead to the further privatisation of our health service."
Looking back at the rally, Des Derwin added:
"There will be more of these activities and we need to build on that. It was a beginning rather than a climax. The 29 March was the beginning of the campaign."
'Taoiseach should go' over healthcare
SINN FÉIN Dáil leader and Health spokesperson Caoimhghín Ó Caoláin led the party's large contingent on the march and rally
for a decent health service. He said:
"I'm very pleased at the turn-out on the march. It's an indication of the public's fury at the failure to deliver quality, assured healthcare services.
"Whatever difficulties Bertie Ahern has in answering questions arising from the Mahon Tribunal, there is one thing that is clear and that is that the healthcare chaos is the biggest reason for the Taoiseach to resign, and he has co-responsibility with Mary Harney on this issue."
Ó Caoláin also condemned the Health Service Executive CEO Brendan Drumm's performance and said that all three – Ahern, Harney and Drumm – should pay the price of their failure and leave office immediately. He said:
"Bertie Ahern, Mary Harney and Brendan Drumm fail to recognise that the diminution of the health service diminishes us all, no matter where we live."
Ógra SF stage roof-top protest
ÓGRA Shinn Féin had a strong presence on the march and they boosted marchers' morale by a roof-top protest on the Sony Centre in O'Connell Street, where Ógra members unfurled a banner declaring: "Save public services – No to Lisbon Treaty."
One of the Ógra members, described the view from the top of the building:
"It was amazing to see so many people march in support of such a great cause.
"Ógra Shinn Féin strongly supports the campaign for decent health services and calls for immediate action to address this crisis."
March for Tallaght Hospital
AHEAD of the rally in Dublin City centre on Saturday, a thousand residents marched to the offices of South Dublin County Council as part of the campaign to save the Children's Hospital at Tallaght. The march was organised by the Tallaght Hospital Action Group.
Sinn Féin's Seán Crowe said he was very pleased with the turn-out:
"A thousand people is a very big turn-out, considering that the weather was atrocious."
The day before the march, Seán Crowe joined the Tallaght Hospital Action Group to hand in to the Department of Health 12,000 postcards signed not just in protest against the downgrading of Tallaght Hospital but also in support of the expansion of existing services at the hospital.
"The volume of postcards returned to the group is evidence of the anger in the local community at the cuts in our services," Seán Crowe said.
"The children's hospitals at Tallaght and Crumlin are to be moved to the Mater site by 2012 with the prospect of leaving all of South Dublin, Wicklow and Kildare without overnight beds for sick children.
"Cancer services are moving to the 'centre of excellence' in St James's while there are proposals to move orthopaedic services to Naas. All of this is contributing to the erosion of services at Tallaght Hospital and Sinn Féin wants to reverse this disastrous downgrading of our hospital," Seán said.