3 April 2008 Edition
Ahern's position had become 'untenable' - Ó Caoláin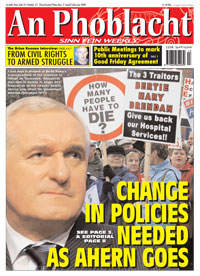 BERTIE AHERN dramatically announced on Wednesday that he is to resign as Taoiseach and Fianna Fáil leader on 6 May. The announcement follows damaging publicity about Ahern's financial affairs at the Mahon Tribunal.
Insisting that he has never taken a corrupt payment, Ahern said he was resigning in the best interests of the country, and was tired of headlines about "my life, my lifestyle, my finances".
Ahern will leave office within days of addressing the US Houses of Congress and a visit to Ireland by the Japanese prime minister.
His departure now paves the way for current Finance Minster Brian Cowen to become Taoiseach. It is unlikely there will be any other candidate and it is expected the real battle will be for the position of Tánaiste.
Shortly after 9am on Wednesday, journalists were told Ahern would make an important announcement at Government Buildings in Dublin. At about 10.50am the Taoiseach told the assembled media that "the important work of the government and party is now being overshadowed by issues relating to me at the Tribunal of Inquiry into certain planning matters and payments".
"The constant barrage of commentary on tribunal related matters has and I believe will continue to dominate the political agenda at an important point for our country," he said.
Surrounded by members of his cabinet, Ahern detailed achievements in his political career and thanked supporters.
Over three decades, Bertie Ahern was elected ten times to the Dáil for the Dublin North Central constituency. In November 1994, he was elected Fianna Fáil leader and first became Taoiseach in 1997. He is the only Taoiseach since 1944 to win three consecutive elections.
Right decision
Commenting on Ahern's announcement Sinn Féin President Gerry Adams said:
"On a personal level and as we celebrate the 10th anniversary of the Good Friday Agreement, I want to wish Bertie Ahern and his family well for the future.
"I worked closely with him through the Peace Process for almost a decade-and-a-half, while he was opposition leader and then as Taoiseach. While I was critical at times of the role of the Irish Government I wish to acknowledge the important contribution Mr. Ahern made.
However, as the Taoiseach acknowledged this morning, politics was becoming increasingly dominated by his personal affairs rather than the issues which are impacting on peoples lives, such as the Lisbon Treaty and the state of the public services."
Meanwhile Sinn Féin's Dáil leader Caoimhghín Ó Caoláin TD stated: "I welcome this morning's announcement by Bertie Ahern of his intention to step down as Taoiseach early next month. His position as leader of the Government has become untenable and his announcement to step down is the right decision. The glaring contradictions in his evidence which had been exposed at the Mahon Tribunal have made his position as leader of this government unsustainable.
"However I also welcome his announcement in the context of his government's complete failure to deliver an equitable and efficient and truly reformed public health service. For some time now I have made repeated calls on the Taoiseach to resign primarily because of the disastrous state of our health services.
"That said, it must be acknowledged that Bertie Ahern's contribution to the development of the Irish Peace Process was significant. He built on the work of his predecessor Albert Reynolds and played a key role in the negotiation of the Good Friday Agreement. The developing all-Ireland political process will require renewed energy and a more vigorous approach from Bertie Ahern's successor.
"The stepping down of Bertie Ahern offers a fresh opportunity for a new direction in Government policy. That should include the delivery of a truly equitable health service, the prioritisation of education and other public services and abandoning the privatisation agenda. The departure of Mary Harney along with Bertie Ahern would help but we will not hold our breaths."